France
The vast and diverse wine regions of France, each with its own unique terroirs, grape varieties, and winemaking techniques, are a treasure trove.

In Bordeaux, the birthplace of some of the world's most iconic wines, esteemed vineyards such as Château Lafite Rothschild, Château Margaux, Château Latour, and Château Haut-Brion produce exceptional red wines, showcasing the art of blending Cabernet Sauvignon, Merlot, Cabernet Franc, Petit Verdot, and Malbec. The region is also renowned for its exquisite white wines, with vineyards like Château d'Yquem and Domaine de Chevalier producing legendary sweet wines.

Moving to Burgundy, the vineyards of Domaine de la Romanée-Conti, Domaine Leroy, and Domaine Armand Rousseau capture the essence of the region's revered terroir, crafting exquisite red wines from the Pinot Noir grape. Meanwhile, Domaine Leflaive and Domaine Coche-Dury are celebrated for their world-class white wines, predominantly made from Chardonnay.

The Champagne region, known for its sparkling wines, boasts illustrious houses such as Krug, Dom Pérignon, and Moët & Chandon, as well as grower-producers like Pierre Péters and Jacques Selosse. These vineyards create exceptional sparkling wines using the traditional method, offering a symphony of delicate bubbles, elegant flavors, and vibrant acidity.

In the Rhône Valley, iconic vineyards like Chapoutier, E. Guigal, and Château de Beaucastel produce remarkable red wines in the northern appellations of Hermitage, Côte-Rôtie, and Cornas, showcasing the elegance and power of Syrah. Further south, Châteauneuf-du-Pape is celebrated for its rich and full-bodied red blends, with Château Rayas and Clos des Papes leading the way.

In Alsace, vineyards such as Domaine Zind-Humbrecht and omaine Trimbach craft exquisite white wines, including Riesling, Gewürztraminer, and Pinot Gris, expressing the region's unique terroir and varietal character.

These are just a few highlights among the diverse array of wines that France offers. From the Loire Valley's crisp whites and elegant reds to the Languedoc-Roussillon's bold and robust wines, each region presents its own vinous treasures.
France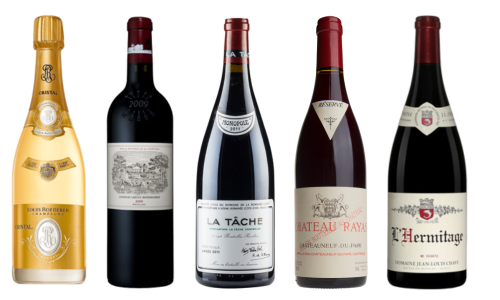 Name
Price Low
Price High
Year (Old)
Year (New)
Product Name
Region
Qty
Score
Price

Burgundy
1
92 (VN)

Inc. GST

SG$2,091.40

Vinous (92)

Bright medium red. Sexy perfume of redcurrant, dark cherry, dried herbs and spices. Spicy, juicy and very dry but shows more floral lift than the Volnay Clos des Chènes. Precise and penetrating thanks to its strong mineral energy. Finishes with noble tannins that avoid the toughness of the Clos des Chènes and slowly building, savory persistence. Bouley told me that 55% of the crop was lost to hail and that partly for this reason he destemmed all of his fruit.

More Info

Burgundy
10
-

Inc. GST

SG$871.34

Rhone
1
-

Inc. GST

SG$6,235.70

Rhone
4
-

Inc. GST

SG$609.01

Rhone
1
91 (VN)

Inc. GST

SG$2,780.35

Vinous (91)

(aged in one-third new oak): Bright purple. Ripe black and blue fruits, incense, candied flowers and smoky minerals on the perfumed nose. Smooth, palate-coating cherry and blueberry flavors show very good focus and vivacity thanks to juicy acidity and a jolt of peppery spices. Finishes sweet, broad and very long, with velvety tannins coming on late.

More Info

Rhone
1
91 (VN)

Inc. GST

SG$2,326.75

Vinous (91)

Inky ruby. A highly perfumed, expansive bouquet evokes dark fruits, incense and olive, and a sexy floral nuance adds complexity. Broad, seamless and appealingly sweet in the mouth, offering intense blueberry and black raspberry flavors that fan out steadily on the back half. Candied violet and star anise nuances come up on a very long, sappy finish that's given shape by smooth tannins.

More Info

Rhone
2
94 (VN)

Inc. GST

SG$2,542.75

Vinous (94)

Glass-staining ruby. A highly perfumed bouquet evokes fresh blackberry and boysenberry, pungent flowers and smoky minerals. Intense, palate-staining black and blue fruit and floral pastille flavors are complicated by powerful spice and mineral notes that gain strength with air. Closes on a youthfully tannic note, showing excellent delineation, strong, mineral-driven persistence and lingering floral character.

More Info

Rhone
1
94 (VN)

Inc. GST

SG$2,112.73

Vinous (94)

Opaque ruby. A highly perfumed bouquet displays aromas of dark fruit liqueur, potpourri, exotic spices and smoked meat. Palate-staining black currant, cherry preserve and spicecake flavors are sharpened by a vibrant mineral flourish that brings energy and lift. Puts on weight with air and finishes extremely long and smooth, with repeating minerality and building tannic grip.

More Info

Rhone
5
94 (VN)

Inc. GST

SG$510.16

Vinous (94)

Saturated magenta. Expansive aromas of ripe red and blue fruit, potpourri, incense and smoky minerals pick up a spicy nuance as the wine opens up. Broad and seamless in the mouth, displaying fine delineation to the sappy, mineral-drenched black raspberry, boysenberry, violet pastille and spicecake flavors. Shows a distinctly elegant character and finishes extremely long and sweet, with discreet tannins framing lingering blue fruit and floral notes.

More Info

Rhone
2
95-96 (VN)

Inc. GST

SG$1,331.77

Vinous (95-96)

Mineral- and smoke-accented red and dark berries, candied licorice and pungent flowers on the intensely perfumed nose. Densely packed, appealingly sweet cherry, blueberry, mulberry and spicecake flavors are supported by an undercurrent of smoky minerality that provides back-end lift and cut. Shows a suave floral quality on the impressively persistent finish, which is shaped by smooth tannins. There's a deft mix of power and finesse here.

More Info

Rhone
3
100 (DC)

Inc. GST

SG$2,697.21

Decanter (100)

To attempt to describe the aroma, star anise and sandalwood would be suitable descriptors - but this is so pure and harmonious that this really smells of nothing other than itself. Perfectly weighted, perfectly balanced, with the most incredibly elegant tannins. This wine gave me goosebumps to taste, it's hauntingly beautiful, the soul of Côte-Rôtie in a glass. It has everything you could hope for in a Côte-Rôtie, it's pure perfection. It's rare for young wines to deliver such emotion.

More Info

Rhone
2
96 (VN)

Inc. GST

SG$1,147.74

Vinous (96)

Opaque ruby color. Highly perfumed red and dark berry, botanical herb and floral scents show superb clarity and pick up a smoky mineral accent with air. Juicy and penetrating on the palate, offering intense bitter cherry, boysenberry, candied violet and mocha flavors that are braced by a core of juicy acidity. Finishes sweet, lively and extremely long, with an echo of candied violet and well-judged tannins.

More Info

Burgundy
1
95-96 (WA)

Inc. GST

SG$4,018.08

Wine Advocate (95-96)

From the Puligny side of that cru, Jadot's 2006 Batard-Montrachet from both purchased juice and grapes delivers vivid scents of saffron, jasmine, vanilla, musk, brown spices, and ripe peach. Vibrant – virtually electric – on the palate, yet all the while creamy in texture, here is a wine to make one firmly believe in the house proclivity to retain some malic acid. Blind, I might have imagined – at least until further reflection, and recognition of this wine's sheer power – that I was drinking the Marcobrunn Riesling of my dreams. The persistence of fruit and spice here are as formidable as the foregoing features led one to hope.

More Info

Burgundy
1
93-95 (WA)

Inc. GST

SG$5,228.78

Wine Advocate (93-95)

There are eight barrels of the excellent 2017 Bâtard-Montrachet Grand Cru (Maison Louis Jadot), an impressive wine that unfurls in the glass with aromas of crisp yellow orchard fruit, pear, pastry cream and honeycomb. On the palate, the wine is full-bodied, deep and satiny, with more concentration and cut than this year's Bienvenues, with an elegant sense of completeness and a long, lively finish. This will be well worth seeking out.

More Info

Burgundy
2
17+ (JR)

Inc. GST

SG$4,657.74

Jancis Robinson (17+)

Cask sample. Very rich and concentrated on the nose. Big and muscular at first but actually with real tautness and acidity on the end – almost unexpectedly! Not the most thrilling example from this appellation I have been lucky enough to taste but it's certainly an attempt to give it tension. Almost too much so!

More Info

Burgundy
1
17+ (JR)

Inc. GST

SG$4,585.08

Jancis Robinson (17+)

Cask sample. Very rich and concentrated on the nose. Big and muscular at first but actually with real tautness and acidity on the end – almost unexpectedly! Not the most thrilling example from this appellation I have been lucky enough to taste but it's certainly an attempt to give it tension. Almost too much so!

More Info

Burgundy
1
97-99 (JMO)

Inc. GST

SG$2,707.27

Jasper Morris Inside Burgundy (97-99)

Pale lemon colour. Very little nose as yet, too early perhaps for a wine of this potential power – which it certainly has on the palate, and very good acidity as well. The immense square of fruit in the mouth doesn't yet show specific flavours but everything hangs together impressively for what will be an imposing Bâtard. Tasted: November 2021

More Info

Burgundy
1
95-97 (JMO)

Inc. GST

SG$2,375.68

Jasper Morris Inside Burgundy (95-97)

From the Puligny side of the appellation. Clear beautiful yellow colour. The nose is discreet but very classy, then this huge wealth of fruit expands across the palate. We can wait for the nose. This is beautifully poised, a little wood, a slight youthful bitterness, but both add to the grip. Long and fine. Drink from 2028-2035. Tasted: October 2022

More Info

Burgundy
1
91+ (VN)

Inc. GST

SG$4,837.75

Vinous (91+)

(just one barrel made, using fruit from two sources): Lucid light yellow. Discreet, high-pitched nose hints at mint and wild herbs. Then juicy and penetrating on the palate, with sharply focused lemon and wild herb flavors accented by strong minerality. A bit lacking in flesh and thus this grand cru comes across as a bit lean, even hard-edged, in the early going. A distinctly tight style of Bienvenues-Bâtard, and difficult to taste following Jadot's top Puligny premier crus owing to its slightly herbal, edgy character.

More Info

Burgundy
1
92-94 (WA)

Inc. GST

SG$5,377.75

Wine Advocate (92-94)

Aromas of waxy citrus rind, marzipan, white flowers and warm pastry introduce the 2018 Bienvenues-Bâtard-Montrachet Grand Cru (Maison Louis Jadot), a full-bodied, ample and enveloping wine that's layered, textural and lively, concluding with a nicely defined finish.

More Info

Burgundy
2
91-93 (VN)

Inc. GST

SG$1,965.28

Vinous (91-93)

The 2019 Bienvenues-Bâtard-Montrachet Grand Cru has quite a rich, honeyed bouquet that just deprives this of the same terroir expression as Jadot's other Grand Crus. The palate is well balanced with a lightly spiced opening, and honeyed in style, offering notes of passion fruit, rhubarb and ginger toward the finish. Very pleasant to drink but it does not quite convey the essence of Bienvenues.

More Info

Burgundy
2
90-92 (VN)

Inc. GST

SG$2,073.28

Vinous (90-92)

The 2020 Bienvenues-Bâtard-Montrachet Grand Cru has a fragrant nose with apple blossom, granite and light citrus aromas, though it needs just a little more energy. The palate is well balanced with well integrated oak, fine depth, yet the finish feels a little richer than I would have liked and when juxtaposed against Jadot's other Grand Crus. Enjoyable, but not intellectual. Closure: Diam

More Info

Burgundy
1
87 (VN)

Inc. GST

SG$615.02

Vinous (87)

The 2019 Chablis Les Clos Grand Cru has a lot of new oak on the nose that, like the Blanchot, renders it rather predictable. The palate is balanced but fat in the mouth, with low acidity and a rather crowd-pleasing but simple finish. So-so.

More Info

Burgundy
2
91-94 (VN)

Inc. GST

SG$2,066.54

Vinous (91-94)

Red-ruby. Superripe aromas of black cherry and smoked meat; smells concentrated! Then sweet and quite penetrating on the palate, with a slightly tart and reserved character to its fruit, due in large part to the wine's rather powerful acidity. Finishes very pure and long, with plenty of flesh. This reminded me of a much more suave version of the Latricieres.

More Info

Burgundy
1
93-95 (BH)

Inc. GST

SG$2,881.94

Burghound (93-95)

A cool and highly restrained nose of spice, plum, underbrush and animale notes displays an ample amount of wood influence. The driving minerality of the openly muscular and hugely proportioned flavors is patently obvious and it continues onto the mouth coating and breathtakingly long finish. I very much like the balance here and while it can't quite match the sheer depth of material evidenced by the Chapelle, it's close and like the Chapelle I would suggest that this is very definitely not a good candidate for early consumption.

More Info

Burgundy
1
94-96 (WA)

Inc. GST

SG$2,286.07

Wine Advocate (94-96)

The 2015 Chambertin Grand Cru has a composed and harmonious, assured bouquet with mineral-driven red berry fruit, a touch of undergrowth and chalk emerging with time. The palate is medium-bodied with fine, quite firm tannin. This is a conservative, correct Chambertin with superb structure, real density and assertiveness towards the finish. Will it develop the personality of the Mazis-Chambertin? Still, this represents an impressive Chambertin from Jadot that will give 20-30 years of pleasure.

More Info

Burgundy
1
92-94 (WA)

Inc. GST

SG$1,951.27

Wine Advocate (92-94)

The 2016 Chambertin Grand Cru had a late malolactic and a slight reduction on the nose. That said, there are clearly plenty of blackberry, raspberry and tobacco scents waiting to come out. The palate is medium-bodied with ripe, quite juicy tannin. This is a Chambertin with impressive body and depth, although this year I find more sophistication embroidered into the Clos de Bèze and maybe even the Chapelle-Chambertin.

More Info

Burgundy
2
92-94 (VN)

Inc. GST

SG$1,508.47

Vinous (92-94)

The 2017 Chambertin Grand Cru has more amplitude on the nose compared to the Clos-de-Bèze, offering layers of red berry fruit, briar, tobacco and light roasted chestnut aromas. This is beautifully defined. The palate is medium-bodied with grippy tannin on the entry. Like the Clos-de-Bèze, the fruit is a little backward at the moment, though there is substance here. It feels tightly coiled, but the structure and density on the finish suggest that it should develop in bottle. Maybe a little more persistence on the aftertaste would not have gone amiss, though that is the leitmotif of the vintage.

More Info

Burgundy
1
92-94 (VN)

Inc. GST

SG$3,189.74

Vinous (92-94)

The 2017 Chambertin Grand Cru has more amplitude on the nose compared to the Clos-de-Bèze, offering layers of red berry fruit, briar, tobacco and light roasted chestnut aromas. This is beautifully defined. The palate is medium-bodied with grippy tannin on the entry. Like the Clos-de-Bèze, the fruit is a little backward at the moment, though there is substance here. It feels tightly coiled, but the structure and density on the finish suggest that it should develop in bottle. Maybe a little more persistence on the aftertaste would not have gone amiss, though that is the leitmotif of the vintage.

More Info

Burgundy
2
94-96 (VN)

Inc. GST

SG$2,010.67

Vinous (94-96)

The 2018 Chambertin Grand Cru has a harmonious, powerful bouquet of layers of red berry fruit laced with crushed stone and pressed rose petal aromas. The palate is medium-bodied with supple tannins and a fine bead of acidity. Hints of wild mint and star anise infuse the finish, which fans out gloriously. This is a step ahead of the Clos-de-Bèze this year.

More Info
Product Name
Region
Qty
Score
Price

Burgundy
1
92 (VN)

In Bond

SG$1,885.00

Vinous (92)

Bright medium red. Sexy perfume of redcurrant, dark cherry, dried herbs and spices. Spicy, juicy and very dry but shows more floral lift than the Volnay Clos des Chènes. Precise and penetrating thanks to its strong mineral energy. Finishes with noble tannins that avoid the toughness of the Clos des Chènes and slowly building, savory persistence. Bouley told me that 55% of the crop was lost to hail and that partly for this reason he destemmed all of his fruit.

More Info

Burgundy
10
-

In Bond

SG$688.00

Rhone
1
-

In Bond

SG$5,655.00

Rhone
4
-

In Bond

SG$554.00

Rhone
1
91 (VN)

In Bond

SG$2,515.00

Vinous (91)

(aged in one-third new oak): Bright purple. Ripe black and blue fruits, incense, candied flowers and smoky minerals on the perfumed nose. Smooth, palate-coating cherry and blueberry flavors show very good focus and vivacity thanks to juicy acidity and a jolt of peppery spices. Finishes sweet, broad and very long, with velvety tannins coming on late.

More Info

Rhone
1
91 (VN)

In Bond

SG$2,095.00

Vinous (91)

Inky ruby. A highly perfumed, expansive bouquet evokes dark fruits, incense and olive, and a sexy floral nuance adds complexity. Broad, seamless and appealingly sweet in the mouth, offering intense blueberry and black raspberry flavors that fan out steadily on the back half. Candied violet and star anise nuances come up on a very long, sappy finish that's given shape by smooth tannins.

More Info

Rhone
2
94 (VN)

In Bond

SG$2,295.00

Vinous (94)

Glass-staining ruby. A highly perfumed bouquet evokes fresh blackberry and boysenberry, pungent flowers and smoky minerals. Intense, palate-staining black and blue fruit and floral pastille flavors are complicated by powerful spice and mineral notes that gain strength with air. Closes on a youthfully tannic note, showing excellent delineation, strong, mineral-driven persistence and lingering floral character.

More Info

Rhone
1
94 (VN)

In Bond

SG$1,900.00

Vinous (94)

Opaque ruby. A highly perfumed bouquet displays aromas of dark fruit liqueur, potpourri, exotic spices and smoked meat. Palate-staining black currant, cherry preserve and spicecake flavors are sharpened by a vibrant mineral flourish that brings energy and lift. Puts on weight with air and finishes extremely long and smooth, with repeating minerality and building tannic grip.

More Info

Rhone
5
94 (VN)

In Bond

SG$463.00

Vinous (94)

Saturated magenta. Expansive aromas of ripe red and blue fruit, potpourri, incense and smoky minerals pick up a spicy nuance as the wine opens up. Broad and seamless in the mouth, displaying fine delineation to the sappy, mineral-drenched black raspberry, boysenberry, violet pastille and spicecake flavors. Shows a distinctly elegant character and finishes extremely long and sweet, with discreet tannins framing lingering blue fruit and floral notes.

More Info

Rhone
2
95-96 (VN)

In Bond

SG$1,205.00

Vinous (95-96)

Mineral- and smoke-accented red and dark berries, candied licorice and pungent flowers on the intensely perfumed nose. Densely packed, appealingly sweet cherry, blueberry, mulberry and spicecake flavors are supported by an undercurrent of smoky minerality that provides back-end lift and cut. Shows a suave floral quality on the impressively persistent finish, which is shaped by smooth tannins. There's a deft mix of power and finesse here.

More Info

Rhone
3
100 (DC)

In Bond

SG$2,440.00

Decanter (100)

To attempt to describe the aroma, star anise and sandalwood would be suitable descriptors - but this is so pure and harmonious that this really smells of nothing other than itself. Perfectly weighted, perfectly balanced, with the most incredibly elegant tannins. This wine gave me goosebumps to taste, it's hauntingly beautiful, the soul of Côte-Rôtie in a glass. It has everything you could hope for in a Côte-Rôtie, it's pure perfection. It's rare for young wines to deliver such emotion.

More Info

Rhone
2
96 (VN)

In Bond

SG$1,035.00

Vinous (96)

Opaque ruby color. Highly perfumed red and dark berry, botanical herb and floral scents show superb clarity and pick up a smoky mineral accent with air. Juicy and penetrating on the palate, offering intense bitter cherry, boysenberry, candied violet and mocha flavors that are braced by a core of juicy acidity. Finishes sweet, lively and extremely long, with an echo of candied violet and well-judged tannins.

More Info

Burgundy
1
95-96 (WA)

In Bond

SG$3,665.00

Wine Advocate (95-96)

From the Puligny side of that cru, Jadot's 2006 Batard-Montrachet from both purchased juice and grapes delivers vivid scents of saffron, jasmine, vanilla, musk, brown spices, and ripe peach. Vibrant – virtually electric – on the palate, yet all the while creamy in texture, here is a wine to make one firmly believe in the house proclivity to retain some malic acid. Blind, I might have imagined – at least until further reflection, and recognition of this wine's sheer power – that I was drinking the Marcobrunn Riesling of my dreams. The persistence of fruit and spice here are as formidable as the foregoing features led one to hope.

More Info

Burgundy
1
93-95 (WA)

In Bond

SG$4,788.00

Wine Advocate (93-95)

There are eight barrels of the excellent 2017 Bâtard-Montrachet Grand Cru (Maison Louis Jadot), an impressive wine that unfurls in the glass with aromas of crisp yellow orchard fruit, pear, pastry cream and honeycomb. On the palate, the wine is full-bodied, deep and satiny, with more concentration and cut than this year's Bienvenues, with an elegant sense of completeness and a long, lively finish. This will be well worth seeking out.

More Info

Burgundy
2
17+ (JR)

In Bond

SG$4,285.00

Jancis Robinson (17+)

Cask sample. Very rich and concentrated on the nose. Big and muscular at first but actually with real tautness and acidity on the end – almost unexpectedly! Not the most thrilling example from this appellation I have been lucky enough to taste but it's certainly an attempt to give it tension. Almost too much so!

More Info

Burgundy
1
17+ (JR)

In Bond

SG$4,190.00

Jancis Robinson (17+)

Cask sample. Very rich and concentrated on the nose. Big and muscular at first but actually with real tautness and acidity on the end – almost unexpectedly! Not the most thrilling example from this appellation I have been lucky enough to taste but it's certainly an attempt to give it tension. Almost too much so!

More Info

Burgundy
1
97-99 (JMO)

In Bond

SG$2,480.00

Jasper Morris Inside Burgundy (97-99)

Pale lemon colour. Very little nose as yet, too early perhaps for a wine of this potential power – which it certainly has on the palate, and very good acidity as well. The immense square of fruit in the mouth doesn't yet show specific flavours but everything hangs together impressively for what will be an imposing Bâtard. Tasted: November 2021

More Info

Burgundy
1
95-97 (JMO)

In Bond

SG$2,170.00

Jasper Morris Inside Burgundy (95-97)

From the Puligny side of the appellation. Clear beautiful yellow colour. The nose is discreet but very classy, then this huge wealth of fruit expands across the palate. We can wait for the nose. This is beautifully poised, a little wood, a slight youthful bitterness, but both add to the grip. Long and fine. Drink from 2028-2035. Tasted: October 2022

More Info

Burgundy
1
91+ (VN)

In Bond

SG$4,420.00

Vinous (91+)

(just one barrel made, using fruit from two sources): Lucid light yellow. Discreet, high-pitched nose hints at mint and wild herbs. Then juicy and penetrating on the palate, with sharply focused lemon and wild herb flavors accented by strong minerality. A bit lacking in flesh and thus this grand cru comes across as a bit lean, even hard-edged, in the early going. A distinctly tight style of Bienvenues-Bâtard, and difficult to taste following Jadot's top Puligny premier crus owing to its slightly herbal, edgy character.

More Info

Burgundy
1
92-94 (WA)

In Bond

SG$4,920.00

Wine Advocate (92-94)

Aromas of waxy citrus rind, marzipan, white flowers and warm pastry introduce the 2018 Bienvenues-Bâtard-Montrachet Grand Cru (Maison Louis Jadot), a full-bodied, ample and enveloping wine that's layered, textural and lively, concluding with a nicely defined finish.

More Info

Burgundy
2
91-93 (VN)

In Bond

SG$1,790.00

Vinous (91-93)

The 2019 Bienvenues-Bâtard-Montrachet Grand Cru has quite a rich, honeyed bouquet that just deprives this of the same terroir expression as Jadot's other Grand Crus. The palate is well balanced with a lightly spiced opening, and honeyed in style, offering notes of passion fruit, rhubarb and ginger toward the finish. Very pleasant to drink but it does not quite convey the essence of Bienvenues.

More Info

Burgundy
2
90-92 (VN)

In Bond

SG$1,890.00

Vinous (90-92)

The 2020 Bienvenues-Bâtard-Montrachet Grand Cru has a fragrant nose with apple blossom, granite and light citrus aromas, though it needs just a little more energy. The palate is well balanced with well integrated oak, fine depth, yet the finish feels a little richer than I would have liked and when juxtaposed against Jadot's other Grand Crus. Enjoyable, but not intellectual. Closure: Diam

More Info

Burgundy
1
87 (VN)

In Bond

SG$516.00

Vinous (87)

The 2019 Chablis Les Clos Grand Cru has a lot of new oak on the nose that, like the Blanchot, renders it rather predictable. The palate is balanced but fat in the mouth, with low acidity and a rather crowd-pleasing but simple finish. So-so.

More Info

Burgundy
2
91-94 (VN)

In Bond

SG$1,860.00

Vinous (91-94)

Red-ruby. Superripe aromas of black cherry and smoked meat; smells concentrated! Then sweet and quite penetrating on the palate, with a slightly tart and reserved character to its fruit, due in large part to the wine's rather powerful acidity. Finishes very pure and long, with plenty of flesh. This reminded me of a much more suave version of the Latricieres.

More Info

Burgundy
1
93-95 (BH)

In Bond

SG$2,615.00

Burghound (93-95)

A cool and highly restrained nose of spice, plum, underbrush and animale notes displays an ample amount of wood influence. The driving minerality of the openly muscular and hugely proportioned flavors is patently obvious and it continues onto the mouth coating and breathtakingly long finish. I very much like the balance here and while it can't quite match the sheer depth of material evidenced by the Chapelle, it's close and like the Chapelle I would suggest that this is very definitely not a good candidate for early consumption.

More Info

Burgundy
1
94-96 (WA)

In Bond

SG$2,090.00

Wine Advocate (94-96)

The 2015 Chambertin Grand Cru has a composed and harmonious, assured bouquet with mineral-driven red berry fruit, a touch of undergrowth and chalk emerging with time. The palate is medium-bodied with fine, quite firm tannin. This is a conservative, correct Chambertin with superb structure, real density and assertiveness towards the finish. Will it develop the personality of the Mazis-Chambertin? Still, this represents an impressive Chambertin from Jadot that will give 20-30 years of pleasure.

More Info

Burgundy
1
92-94 (WA)

In Bond

SG$1,780.00

Wine Advocate (92-94)

The 2016 Chambertin Grand Cru had a late malolactic and a slight reduction on the nose. That said, there are clearly plenty of blackberry, raspberry and tobacco scents waiting to come out. The palate is medium-bodied with ripe, quite juicy tannin. This is a Chambertin with impressive body and depth, although this year I find more sophistication embroidered into the Clos de Bèze and maybe even the Chapelle-Chambertin.

More Info

Burgundy
2
92-94 (VN)

In Bond

SG$1,370.00

Vinous (92-94)

The 2017 Chambertin Grand Cru has more amplitude on the nose compared to the Clos-de-Bèze, offering layers of red berry fruit, briar, tobacco and light roasted chestnut aromas. This is beautifully defined. The palate is medium-bodied with grippy tannin on the entry. Like the Clos-de-Bèze, the fruit is a little backward at the moment, though there is substance here. It feels tightly coiled, but the structure and density on the finish suggest that it should develop in bottle. Maybe a little more persistence on the aftertaste would not have gone amiss, though that is the leitmotif of the vintage.

More Info

Burgundy
1
92-94 (VN)

In Bond

SG$2,900.00

Vinous (92-94)

The 2017 Chambertin Grand Cru has more amplitude on the nose compared to the Clos-de-Bèze, offering layers of red berry fruit, briar, tobacco and light roasted chestnut aromas. This is beautifully defined. The palate is medium-bodied with grippy tannin on the entry. Like the Clos-de-Bèze, the fruit is a little backward at the moment, though there is substance here. It feels tightly coiled, but the structure and density on the finish suggest that it should develop in bottle. Maybe a little more persistence on the aftertaste would not have gone amiss, though that is the leitmotif of the vintage.

More Info

Burgundy
2
94-96 (VN)

In Bond

SG$1,835.00

Vinous (94-96)

The 2018 Chambertin Grand Cru has a harmonious, powerful bouquet of layers of red berry fruit laced with crushed stone and pressed rose petal aromas. The palate is medium-bodied with supple tannins and a fine bead of acidity. Hints of wild mint and star anise infuse the finish, which fans out gloriously. This is a step ahead of the Clos-de-Bèze this year.

More Info