About Cru
Our Mission
Cru was founded with one simple goal, to:
Build the world's most trusted and user-friendly platform for managing Fine Wine and Spirits.
After years of patient development, we are a long way towards achieving our goal. Tens of thousands of clients, all over the world, now use the Cru platform to buy, store, trade, manage and deliver the world's finest wines and spirits.
Our Values
We are defined and guided by our four core values
Assurance
Trust & security guaranteed
Our primary responsibility (with almost US$100 million of fine wine/spirits under custody) is to provide trusted and secure infrastructure for the safe management and delivery of fine wine and spirits. This we do through our network of top-quality warehouses, transporters and couriers; and through a large team of trained and professional account managers and operations personnel.
Commitment
To putting our clients first
Many companies pay lip service to putting 'clients first' - but few walk the walk. Cru has repeatedly lowered its fees, removed charges and reduced its prices; whilst simultaneously adding new functionality and services for clients (without charge). We are not prisoners to agency contracts, so we can always provide dispassionate advice on what is best for you to buy (not what we are obliged to sell). Unlike others, we focus solely on private clients, and hence are not distracted servicing on-trade or other B2B businesses.
Fairness
In price competitiveness & customer service
Fine wine is expensive enough as it is. It doesn't need unjustifiable extra margins and charges layered on top. We always strive to offer our products at the lowest possible price.
Dedication
To a more sustainable future
We take our responsibility towards our planet very seriously. Cru was the first major fine wine company to publish and implement a comprehensive Sustainability Strategy (in 2019), and since then we have implemented a number of initiatives to reduce and then offset our carbon emissions.
Our History
Cru is a contemporary company (founded in 2013). It represents the vision of co-founders Simon Farr (Chairman) and Jeremy Howard (Chief Executive), who both share the desire to harness new technology to improve the experience of fine wine collectors.
With investment from a European investment firm, we initially acquired two existing businesses (with great teams and allocations), and they form the foundation of today's Cru. Our UK business started life as Bibendum Fine Wines way back in 1982. This is the source of many of our blue-chip allocations in Burgundy and Bordeaux.
Our second acquisition was an established business in Hong Kong (Slurp.asia). In August 2014 we opened an office and warehouse in Singapore.
An office in Beijing was added to the network in 2021, and in Q4 2021 we signed a lease on our newest facility in San Francisco.
Since our first day, we have prioritised technical development - and we maintain an in-house development team which continues to build our proprietary software platform.
Cru has grown its client base rapidly, and today we have over 30,000 client accounts. We operate six transactional websites (USA, UK, EU, Hong Kong, Singapore and China), all with prices and payments in local currencies.
Cru has grown its annual revenues very rapidly, from just US$12 million in 2014 to over US$60 million in 2021.
Our Team
Cru is led by Jeremy Howard (co-founder and CEO) and by co-founder and Chairman Simon Farr. Simon is a 49-year industry veteran who was heavily involved in setting up both Majestic Wine and Bibendum in the late 1970s and early 1980s. Jeremy had a long and distinguished career in investment banking (Goldman Sachs and Deutsche Bank) before becoming an investor and entrepreneur in the fine wine/spirits sector in 2006.
Working with Jeremy and Simon are a large team of experienced account managers, operations experts, promotional managers, event co-ordinators and finance professionals located in the United Kingdom, France, Hong Kong, China, Singapore, Thailand and the USA. In addition, we have a fine whisky expert (George Stewart), who is responsible for sourcing our fabulous range of rare fine whisky (in bottle and cask formats).
Many of our team have WSET qualifications, and all are great lovers of fine wine and spirits.
Simon Farr
Chairman & Co-Founder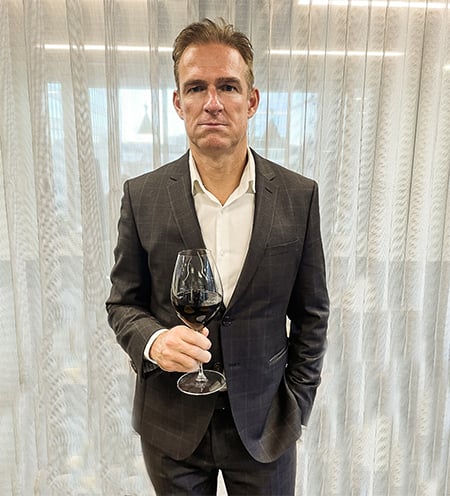 Jeremy Howard
CEO & Co-Founder
Our Milestones
2013
June

Cru is conceived and funded, Jeremy Howard joins as co-founder and CEO

November

Bibendum Fine Wines acquired
2014
January

Slurp.asia (Hong Kong) is acquired

August

Cru opens office in Singapore
2017
November

Cru is named Best Online Retailer 2017 by Drinks Business magazine
2018
November

Cru is named Best Online Retailer 2018 by Drinks Business magazine

September

Cru launches world's first fine wine trading App

October

Cru formally exits B2B business to focus solely on private clients
2019
September

Cru publishes fine wine's first comprehensive Sustainability Plan
2020
June

Cru passes 30,000 client accounts

November

Cru launches dedicated YouTube channel for investment education

December

Cru launches 'Managed Portfolios' product for high-net-worth clients
2021
May

Cru opens office in China

November

Cru mourns the loss of its longest serving team member Ben Collins.
Cru signs lease on office in San Francisco
2022
February

Cru exceeds US$100 million under management on our online platforms

April

Cru opens U.A.E. office (Dubai)

Cru Community goes live via a Discord Channel

June

Cru introduces market maker/trading team

Cru Markets (Beta) trading platform goes live

August

Cru passes 36,000 client accounts

October

Instant bank transfer added for UK customers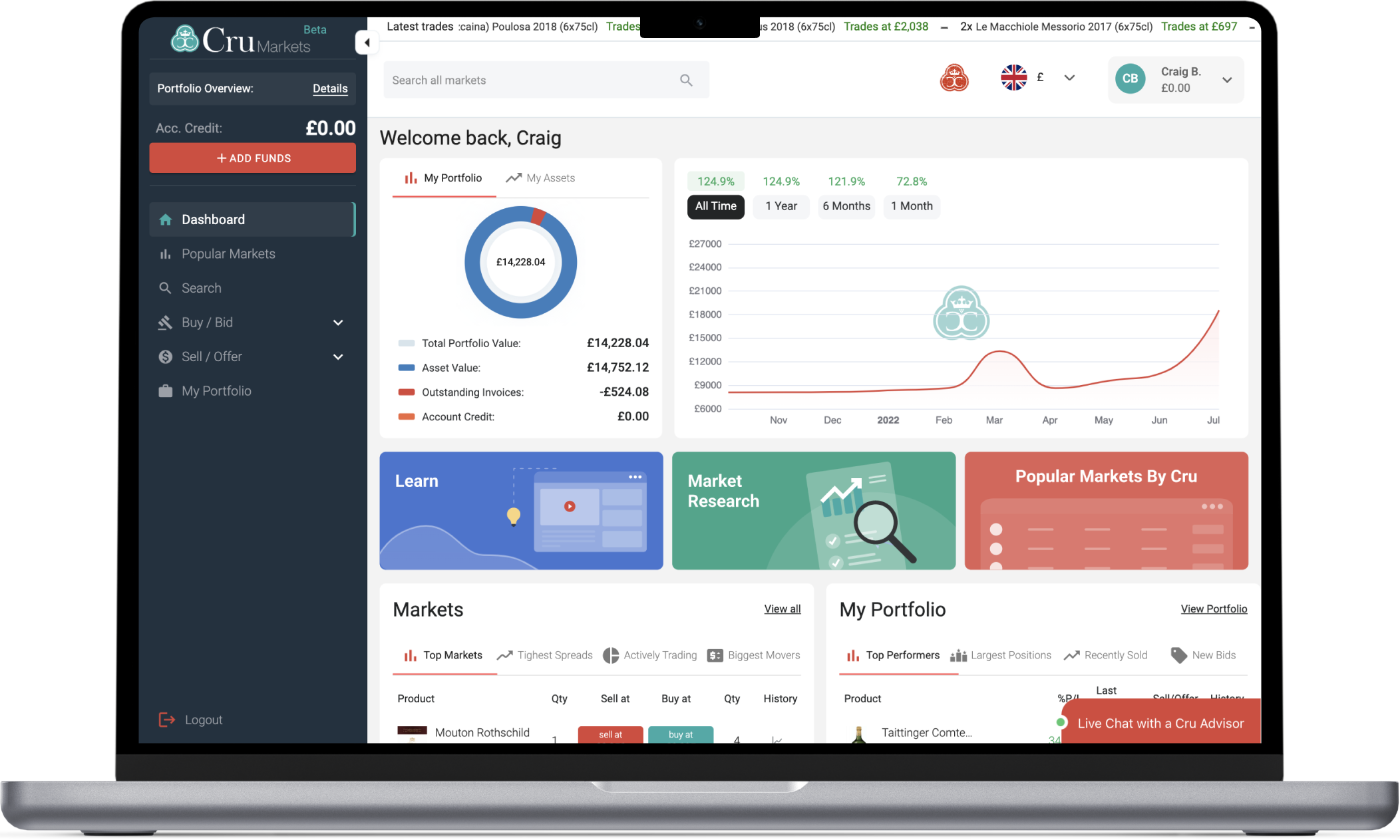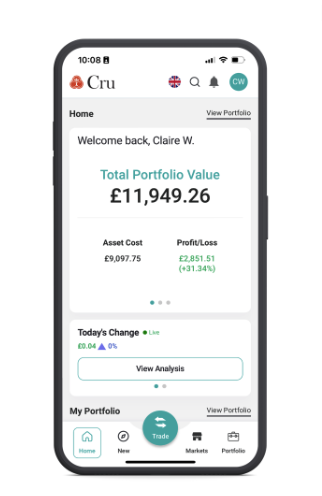 2023
July

Big celebration as Cru World Wine reaches 10 years old. Special video released featuring the company's development since 2013.

Cru passes 39,000 global clients.

Cru launches new process to enable clients to 'verify' products transferred to Cru custody.

August

New mobile App launched. Huge upgrade to previous App with comprehensive functionality replicating the desktop experience on mobile App for the first time.

Assets under custody on Cru platform exceeds US$130 million.
Our Partnerships
Cru has built what we believe to be the most comprehensive global infrastructure for owning, trading and managing fine wine and spirits.
Our network includes over 1,000 different producers and suppliers (all over the world), some connected to Cru through state-of-the-art APIs. In addition, we have 12 different warehouse partners - in America, Europe and Asia (most networked to Cru through EDI technology).
We have numerous transporter and delivery company relationships, which enable us to deliver wine and spirits across the globe.
Our payment processing partnerships allow us to accept payments in US Dollars, British Pounds, Chinese Renminbi, Hong Kong Dollars, Singapore Dollars and Euros.
We have an integration with the Liv-ex.com exchange in London to connect our clients to a major liquidity centre.
What Our Clients Say
Mario B.
Cru United Kingdom Client
It has been a beautiful journey of...
A close friend introduced me to Cru in 2016 and suggested I buy a case of 2015 Chateau Margaux. From then on it has been a beautiful journey of learning about the fine wines of the world, in combination with trading and enjoying them with friends and family.
Will Trotman provides tremendous relationship management, while Jane Hollingshead ensures flawless logistics advice.
Cheers to many more years!
Beng. KP
Cru Singapore Client
Cru has redefined the landscape for fine wines...
Cru has redefined the landscape for fine wines, creating a marketplace that brings together wine appreciators from all walks of life and breaking into what is traditionally an old boys club. Its easy to understand platform, ready information on critic scores, storage and trading mechanisms attracts a broader base of new, uninformed enthusiasts, seasoned connoisseurs and alternative asset traders that puts traditional wine merchants in an archaic light.
Willis. C
Cru Hong Kong Client
Cru是一個非常專業的網上平台。
本人自三年前開始在Cru買賣红、白酒。自此我90%以上的收藏都是經Cru購入 。
除了品種齊全,價錢也非常合理。還不時有特別的優惠, 令你有意外的驚喜。
特別一提,Cru的團隊經常提供快捷又專業的服務,物流也很快, 本人極力推薦!
Simon. J
Cru United Kingdom Client
Cru's trading platform is simple to use...
Cru's trading platform is simple to use and easy to access, but what I value most is the immediacy ... when I buy wine, I can immediately offer it for sale; when I sell wine, I can immediately recycle my account credit.
Kay. LT
Cru Singapore Client
Cru has really reshaped what's on offer...
Cru has really reshaped what's on offer to the end consumer. Besides its wide range of wine on offer, the platform has given wine enthusiasts an avenue to curate, store and even trade with ease! It's indeed an all-in-one platform.
Thomas. F
Cru Hong Kong Client
This is by far the best website...
This is by far the best website for all your fine wine needs, whether for consumption, collection or investment.
Great variety, expert sourcing, consistently market beating prices, unique opportunities, and last but not least, a wonderfully dedicated and attentive team to ensure you have the best possible experience and that you are always well taken care of and satisfied.
Cru is the best.
Cru帮助我开始了葡萄酒收藏之旅...
我能够在Cru上面找到几乎所有我想要收藏的葡萄酒,另外没有想到的是交易和竞拍功能竟然让买卖都如此简单轻松。 我也通过跨境拿回国一些葡萄酒来和朋友分享我的收藏,朋友们也都很认可我的眼光。
当我对一些葡萄酒拿不定主意时,Cru团队能够很及时的给出我购买意见,而且会经常收到一些平时市场上看不到的offer,给我的收藏之路添加很多惊喜!
John. M
Cru Hong Kong Client
Cru is unparalleled in the wine game...
Cru has been extremely helpful sourcing competitively priced wines in the secondary market and en primeur - whether for drinking or investing. From wine access to storage to customer service.
Cru is unparalleled in the wine game at the moment.
Tiong. HC
Cru Singapore Client
Cru is one of the best and...
Cru is one of the best and most user-friendly platforms for wine trading and purchasing. Wide range of wine products from all regions including Champagne from this platform. Customer service back up is very responsive and able to solve trading matters promptly.
Storage is excellent with reasonable rates. Price competitive and allows us to bid the price we are looking for.
Cru is a trustable and promising platform.
Nick. R
Cru United Kingdom Client
...a delightful piece of software...
The Cru platform is a delightful piece of software, fast and intuitive requiring minimal effort from the user. Wine descriptions are concise, enough to let you know how the wine will taste but never verbose. The best online wine merchant by far in my view.
Jelinda. C
Cru Hong Kong Client
I cannot say enough what a great website Cru is...
...I have been buying from Cru for years, and I am still here! I like a good deal, and I always do my research. I always feel I am getting the best price when I buy from Cru. I am informed in advance the delivery time and costs, so I can make an informed decision when I make a purchase. If I do not feel like receiving my order immediately, I can choose to store it at Cru. The storage fee is extremely reasonable.
Recently I started buying champagnes and wines for collection and investment. Everything is made so easy with Cru. Believe me, because I have looked at other websites and still find Cru the best in all aspects. The sales team, Winston Yau in particular, is not only very helpful and efficient but trustworthy and reliable. I always look forward to his (and the team's) emails every day, informing me of the best and newest offers of the day/week. I really cannot say enough how much I am enjoying Cru. I highly recommend it to everyone!