Whisky Bottles
Welcome to the fascinating realm of fine whisky, where craftsmanship, tradition, and exceptional quality unite to create liquid masterpieces.

Scotland, often regarded as the birthplace of whisky, is home to iconic distilleries that have shaped the industry. The Macallan, nestled in the picturesque region of Speyside, has achieved legendary status for its extraordinary single malt whiskies. Renowned for its meticulous attention to detail and commitment to craftsmanship, The Macallan offers a range of coveted expressions, including limited-edition releases and exceptionally aged bottlings that command top prices in the market.

Another distinguished Scottish distillery is Ardbeg, located on the captivating Isle of Islay. Ardbeg is celebrated for its peaty and smoky whiskies that captivate the senses with their bold and distinctive character. Whiskies like the Ardbeg Uigeadail and Ardbeg Corryvreckan have garnered a cult following among enthusiasts, and their limited releases are highly sought after by collectors and connoisseurs alike.

Turning our attention to Japan, we encounter a whisky culture that has gained global recognition for its impeccable craftsmanship. Yamazaki Distillery, the oldest distillery in Japan, showcases the nation's dedication to excellence. Their whiskies, characterized by their smoothness and elegance, offer a captivating blend of traditional Scottish techniques and Japanese precision. Yamazaki's limited releases, such as the Yamazaki Sherry Cask, have achieved cult status and are highly prized by whisky enthusiasts.

Hibiki, produced by the famous Suntory Distillery, is another jewel in the Japanese whisky crown. Known for its exceptional blending techniques and attention to detail, Hibiki whiskies epitomize harmony and balance. The Hibiki 21-Year-Old, with its complex flavors and velvety texture, stands as a testament to the artistry and skill of Japanese whisky production.

These iconic distilleries from Scotland and Japan represent the pinnacle of whisky craftsmanship. Their commitment to quality, innovation, and time-honored traditions has earned them global acclaim and a dedicated following among whisky enthusiasts.
Whisky Bottles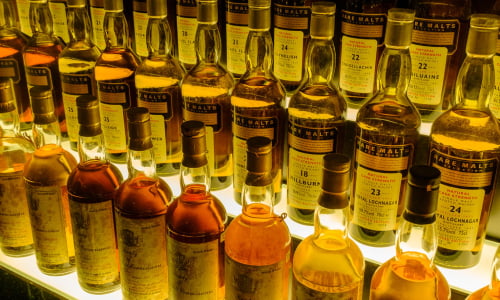 Name
Price Low
Price High
Year (Old)
Year (New)
Product Name
Region
Qty
Score
Price

Scotland
3
-

Inc. GST

SG$287.06

1
-

Inc. GST

SG$579.92

Scotland
1
-

Inc. GST

SG$407.87

From a deeply underrated distillery, this Allt-a-Bhainne bottled by the Stewart Whisky Company under their Stiùbhart Single Cask label is a glorious example of what happens when a cask is simply allowed to mature as it should. A natural cask strength of just 44.9% after 24 years makes it clear that this was maturing at an accelerated rate, losing a lot of alcohol and water but the phenolic oils that remain have led to an extremely concentrated whisky; a masterclass in bourbon-wood maturation.

Appearance: Showing a brilliant old-brass colour courtesy of the bourbon wood and that unique concentration through the ageing process.

Nose: this whisky jumps out of the glass with notes almost reminiscent of a great White Burgundy. Crushed river stones and struck flint alongside golden delicious apple and herbes de provence come across on the nose.

Palate: The palate is gentle as one would expect from the lower ABV but it is oily and viscous with a sensation of scented candle followed by sea salt, delicate earthy peat and a return of that golden delicious apple note.

Finish: Extremely long and gentle with the initial notes of crushed stones mingling with sea salt and stewed orchard fruit.

More Info

Scotland
1
-

Inc. GST

SG$1,794.41

Scotland
10
-

Inc. GST

SG$1,906.59

Scotland
10
-

Inc. GST

SG$668.26

Scotland
3
-

Inc. GST

SG$517.82

On the nose, faint ripples of sweet wood smoke and tart crème fraîche flow gently into bold notes of savoury fennel, celeriac and roasted tea leaves. Plunge further and discover alluring aromas of charcoal and lightly burnt toast. A splash of water releases a gust of fresh sea spray, followed by eucalyptus oil and pine. Finally, this irresistible nose ends with an unmistakable top note of saddle soap and leather. An intensely salty mouthfeel shifts like the tides into soothing medicinal notes, followed by salted peanut brittle, smoked pineapple and lime juice. Waves of aniseed lap over the palate, before rich fudge, birch tar and peat smoke crash down wildly. This is a dram that coaxes you in, and all assumptions are best left behind. Simply let this alluring spirit surprise and delight. Savoury and smoky notes collide in a sharp, intense, yet satisfyingly long finish

More Info

Scotland
1
-

Inc. GST

SG$494.06

Scotland
1
-

Inc. GST

SG$1,481.50

Islay
12
-

Inc. GST

SG$822.23

Jim Murray's legendary Whisky of the Year in 2009, this does well to live up to it's moniker as the "Ultimate Islay Scotch Whisky."

More Info

Scotland
8
-

Inc. GST

SG$354.14

This 1997-vintage Ardmore has been matured in a single refill hogshead for 21 years, before being bottled in February 2019 for Gordon & MacPhail's Connoisseurs Choice series. Soft, smoky aromas of camphor mingle with brown sugar and honey-roasted peanuts, while the palate initially offers sweet apricot jam and lemon zest notes. The peat smoke returns in gentle, rolling waves, while notes of cloudy apple juice and a salty edge linger in the finish. 248 bottles produced. Cask No. 19/021.

More Info

Scotland
4
-

Inc. GST

SG$184.50

2
-

Inc. GST

SG$685.54

Scotland
1
-

Inc. GST

SG$2,669.72

Scotland
1
-

Inc. GST

SG$399.42

Scotland
1
-

Inc. GST

SG$1,328.79

Matured in a refill sherry butt, this 1982 Benrinnes is a deeper pitched, sherry-heavy Speyside with classic dried fruit and excellent richness. The nose shows some pretty wild herbal notes of eucalyptus and juniper wafting alongside the richer notes of coffee, Jamaican ginger cake and damson, with a distant smokey note reminiscent of gunpowder and struck flint. No artificial colouring, natural cask strength - 57.4%.

More Info

England
6
-

Inc. GST

SG$345.56

Scotland
4
-

Inc. GST

SG$949.06

Scotland
2
-

Inc. GST

SG$11,104.30

Scotland
2
-

Inc. GST

SG$1,454.50

Scotland
10
-

Inc. GST

SG$818.38

Scotland
1
-

Inc. GST

SG$216.30

This twelve-year-old Highland Single Malt was distilled in 2008 at the Blair Athol Distillery along the banks of the River Tummel. Drawn from a single, undersized 1st Fill Bourbon Barrel previously used by the Koval Distillery, it is a youthful pale golden colour with bright aromatics of red apple and pear as well as fine vanilla and warm baking spices. A generous, well-balanced highlander from one of the oldest distilleries in Scotland dating back to 1798, this is a personal favourite and a fitting first bottling of the Stiùbhart Single Cask Selection. Bottled at a natural cask strength of 58.9% without chill filtration or added colouring.

This is the first bottling to be released by the Stewart Whisky Company.

More Info

Scotland
1
-

Inc. GST

SG$34,878.55

Blair Athol is one of the oldest distilleries in Scotland, tracing its foundation back to 1798 when it was originally set up as the Aldour Distillery, in reference to its water source, the Allt Dour - or Burn of the Otter. Located on the outskirts of the Victorian spa town of Pitlochry in Highland Perthshire, Blair Athol, along with neighbouring Edradour are two of the final vestiges of Perthshire's long lost farm distilleries.

In addition to its proud heritage, Blair Athol is also one of the most visually striking distilleries with many of the original buildings as well as an impressive dunnage where the finest casks slumber patiently waiting to be bottled. Only two official bottlings have ever hit the market; the standard, heavily sherried 12 year old and a limited edition 23 which shows the longevity of Blair Athol's spirit.

A key component of the Bell's blend of whiskies, Blair Athol is praised for its fruit-driven style with subtle earthy - not smokey - peat influence courtesy of the ancient moorlands over which its water flows. A mellow malt; the quintessential old highland gentleman, Blair Athol has as much of a bright future as it does a storied past. It is only a matter of time before the reputation of this much loved distillery catches up with the ineffable quality of their whisky.

More Info

Scotland
1
-

Inc. GST

SG$611.24

Kentucky
1
-

Inc. GST

SG$756.99

Kentucky
3
-

Inc. GST

SG$2,080.90

Kentucky
2
-

Inc. GST

SG$1,550.17

Kentucky
1
-

Inc. GST

SG$2,685.92

Scotland
3
-

Inc. GST

SG$5,688.32

Scotland
1
-

Inc. GST

SG$1,657.41
Product Name
Region
Qty
Score
Price

Scotland
3
-

In Bond

SG$231.00

1
-

In Bond

SG$500.00

Scotland
1
-

In Bond

SG$350.00

From a deeply underrated distillery, this Allt-a-Bhainne bottled by the Stewart Whisky Company under their Stiùbhart Single Cask label is a glorious example of what happens when a cask is simply allowed to mature as it should. A natural cask strength of just 44.9% after 24 years makes it clear that this was maturing at an accelerated rate, losing a lot of alcohol and water but the phenolic oils that remain have led to an extremely concentrated whisky; a masterclass in bourbon-wood maturation.

Appearance: Showing a brilliant old-brass colour courtesy of the bourbon wood and that unique concentration through the ageing process.

Nose: this whisky jumps out of the glass with notes almost reminiscent of a great White Burgundy. Crushed river stones and struck flint alongside golden delicious apple and herbes de provence come across on the nose.

Palate: The palate is gentle as one would expect from the lower ABV but it is oily and viscous with a sensation of scented candle followed by sea salt, delicate earthy peat and a return of that golden delicious apple note.

Finish: Extremely long and gentle with the initial notes of crushed stones mingling with sea salt and stewed orchard fruit.

More Info

Scotland
1
-

In Bond

SG$1,635.00

Scotland
10
-

In Bond

SG$1,735.00

Scotland
10
-

In Bond

SG$397.00

Scotland
3
-

In Bond

SG$451.00

On the nose, faint ripples of sweet wood smoke and tart crème fraîche flow gently into bold notes of savoury fennel, celeriac and roasted tea leaves. Plunge further and discover alluring aromas of charcoal and lightly burnt toast. A splash of water releases a gust of fresh sea spray, followed by eucalyptus oil and pine. Finally, this irresistible nose ends with an unmistakable top note of saddle soap and leather. An intensely salty mouthfeel shifts like the tides into soothing medicinal notes, followed by salted peanut brittle, smoked pineapple and lime juice. Waves of aniseed lap over the palate, before rich fudge, birch tar and peat smoke crash down wildly. This is a dram that coaxes you in, and all assumptions are best left behind. Simply let this alluring spirit surprise and delight. Savoury and smoky notes collide in a sharp, intense, yet satisfyingly long finish

More Info

Scotland
1
-

In Bond

SG$429.00

Scotland
1
-

In Bond

SG$1,150.00

Islay
12
-

In Bond

SG$561.00

Jim Murray's legendary Whisky of the Year in 2009, this does well to live up to it's moniker as the "Ultimate Islay Scotch Whisky."

More Info

Scotland
8
-

In Bond

SG$292.00

This 1997-vintage Ardmore has been matured in a single refill hogshead for 21 years, before being bottled in February 2019 for Gordon & MacPhail's Connoisseurs Choice series. Soft, smoky aromas of camphor mingle with brown sugar and honey-roasted peanuts, while the palate initially offers sweet apricot jam and lemon zest notes. The peat smoke returns in gentle, rolling waves, while notes of cloudy apple juice and a salty edge linger in the finish. 248 bottles produced. Cask No. 19/021.

More Info

Scotland
4
-

In Bond

SG$142.00

2
-

In Bond

SG$413.00

Scotland
1
-

In Bond

SG$2,435.00

Scotland
1
-

In Bond

SG$341.00

Scotland
1
-

In Bond

SG$1,195.00

Matured in a refill sherry butt, this 1982 Benrinnes is a deeper pitched, sherry-heavy Speyside with classic dried fruit and excellent richness. The nose shows some pretty wild herbal notes of eucalyptus and juniper wafting alongside the richer notes of coffee, Jamaican ginger cake and damson, with a distant smokey note reminiscent of gunpowder and struck flint. No artificial colouring, natural cask strength - 57.4%.

More Info

England
6
-

In Bond

SG$283.00

Scotland
4
-

In Bond

SG$657.00

Scotland
2
-

In Bond

SG$10,060.00

Scotland
2
-

In Bond

SG$1,125.00

Scotland
10
-

In Bond

SG$536.00

Scotland
1
-

In Bond

SG$164.00

This twelve-year-old Highland Single Malt was distilled in 2008 at the Blair Athol Distillery along the banks of the River Tummel. Drawn from a single, undersized 1st Fill Bourbon Barrel previously used by the Koval Distillery, it is a youthful pale golden colour with bright aromatics of red apple and pear as well as fine vanilla and warm baking spices. A generous, well-balanced highlander from one of the oldest distilleries in Scotland dating back to 1798, this is a personal favourite and a fitting first bottling of the Stiùbhart Single Cask Selection. Bottled at a natural cask strength of 58.9% without chill filtration or added colouring.

This is the first bottling to be released by the Stewart Whisky Company.

More Info

Scotland
1
-

In Bond

SG$27,015.00

Blair Athol is one of the oldest distilleries in Scotland, tracing its foundation back to 1798 when it was originally set up as the Aldour Distillery, in reference to its water source, the Allt Dour - or Burn of the Otter. Located on the outskirts of the Victorian spa town of Pitlochry in Highland Perthshire, Blair Athol, along with neighbouring Edradour are two of the final vestiges of Perthshire's long lost farm distilleries.

In addition to its proud heritage, Blair Athol is also one of the most visually striking distilleries with many of the original buildings as well as an impressive dunnage where the finest casks slumber patiently waiting to be bottled. Only two official bottlings have ever hit the market; the standard, heavily sherried 12 year old and a limited edition 23 which shows the longevity of Blair Athol's spirit.

A key component of the Bell's blend of whiskies, Blair Athol is praised for its fruit-driven style with subtle earthy - not smokey - peat influence courtesy of the ancient moorlands over which its water flows. A mellow malt; the quintessential old highland gentleman, Blair Athol has as much of a bright future as it does a storied past. It is only a matter of time before the reputation of this much loved distillery catches up with the ineffable quality of their whisky.

More Info

Scotland
1
-

In Bond

SG$529.00

Kentucky
1
-

In Bond

SG$627.00

Kentucky
3
-

In Bond

SG$1,705.00

Kentucky
2
-

In Bond

SG$1,245.00

Kentucky
1
-

In Bond

SG$2,450.00

Scotland
3
-

In Bond

SG$5,230.00

Scotland
1
-

In Bond

SG$1,510.00