Alsace
Alsace, located in northeastern France, is renowned for its exceptional fine wines. With its unique blend of French and German influences, Alsace offers a captivating selection of wines that embody the region's rich heritage, distinct terroir, and dedication to quality winemaking.

One of the most famous vineyards in Alsace is Domaine Zind-Humbrecht, known for producing exceptional wines that showcase the region's terroir and commitment to organic and biodynamic practices. Other renowned vineyards in Alsace include Domaine Marcel Deiss, Domaine Weinbach, and Domaine Trimbach, each celebrated for their outstanding wines that capture the essence of the region.

Alsace is celebrated for its white wines, which account for the majority of its production. The region's flagship grape varieties, including Riesling, Gewürztraminer, and Pinot Gris, flourish in the region's cool climate and unique soils. These wines are known for their aromatic intensity, crisp acidity, and expressive fruit flavors. Notable appellations like Alsace Grand Cru further highlight the region's dedication to producing exceptional white wines.

Alsace is also recognized for its sparkling wines, known as Crémant d'Alsace. Crafted using traditional methods, these sparkling wines exhibit finesse, delicate bubbles, and a refreshing character. They are produced from a variety of grape varieties, including Pinot Blanc, Chardonnay, and Pinot Gris, offering a delightful alternative to Champagne.

While Alsace is predominantly known for its white wines, it also produces exceptional red wines, primarily from the Pinot Noir grape. These reds showcase elegance, finesse, and a vibrant fruit profile. Vineyards like Domaine Albert Boxler and Domaine Ostertag are celebrated for their outstanding red wines that highlight the region's potential for producing world-class Pinot Noir.

Indulge in the allure of Alsace's fine wines and experience the exceptional quality, distinct character, and the region's dedication to crafting remarkable wines. Whether you're savoring a vibrant Riesling, an aromatic Gewürztraminer, or an elegant Pinot Noir, Alsace wines promise a journey of flavors that capture the essence of this enchanting wine region.
Alsace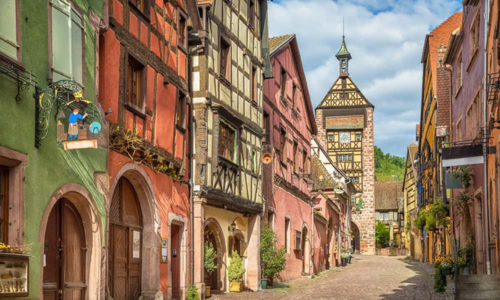 Name
Price Low
Price High
Year (Old)
Year (New)
Product Name
Region
Qty
Score
Price

Alsace
1
-

Inc. GST

SG$719.06

Alsace
2
-

Inc. GST

SG$1,086.26

Alsace
1
-

Inc. GST

SG$933.08

Alsace
2
-

Inc. GST

SG$1,110.02

Alsace
2
-

Inc. GST

SG$1,010.84

Alsace
2
-

Inc. GST

SG$528.64

Alsace
2
-

Inc. GST

SG$1,132.70

Alsace
2
-

Inc. GST

SG$241.81

Alsace
10
-

Inc. GST

SG$310.39

Alsace
1
-

Inc. GST

SG$305.04

Alsace
2
91 (VN)

Inc. GST

SG$560.95

Vinous (91)

Pale yellow-gold. Very perfumed aromas of rose water, grapefruit, cured meat and nutmeg show lovely lift. Clean, precise and not especially opulent, offering spicy flavors of yellow fruit, freshly baked bread and noteworthy inner-mouth perfume. Closes lively and long, with lingering aromatic interest. Does not taste as sweet as the numbers indicate (18 g/L of r.s and only 2.8 g/L total acidity).

More Info

Alsace
4
-

Inc. GST

SG$612.79

Alsace
10
-

Inc. GST

SG$365.47

Alsace
10
-

Inc. GST

SG$376.27

Alsace
1
89-91 (VN)

Inc. GST

SG$584.06

Vinous (89-91)

Stony, complex nose features white flowers, mint, quinine, lemon and lime. Rich and dense, with a dusty sense of minerality. As stony as this riesling is, it not at all hard. Finishes very long, with a whiplash of flavor. This comes across as dryer than the Tradition even though it's carrying a few more grams of sugar (10, vs. 7, with the same 13.2% alcohol), due to its stronger mineral character and higher acidity. Will be long-lived.

More Info

Alsace
1
96 (JS)

Inc. GST

SG$1,783.60

James Suckling (96)

Decadent and rich with mango, papaya, citrus, and mineral. Slate too. Full-bodied, dry and fruity. It really shows great length and complexity. First vintage of this single vineyard wine from the best parcel of the Schonenberg. Contrasty. Drink now.

More Info

Alsace
1
96 (JS)

Inc. GST

SG$1,131.30

James Suckling (96)

A very complex rose petal and herbal riesling that is ridiculously fresh for almost a decade of age. Very muscular and concentrated, but still cool and fresh with enormous mineral depth at the finish. Just coming to its peak, but decades of aging potential!

More Info

Alsace
2
94 (VN)

Inc. GST

SG$1,139.85

Vinous (94)

Luminous straw-green. Knockout nose of fresh and dried fruits, marzipan, honey, lychee and white flowers. Clean, fresh and juicy, offering flavors of fruit salad and fresh citrus complicated by almond milk and floral nuances. Deceptively easy to drink but very dense and deep, showcasing lovely balance (7.2 g/L total acidity, 13.6% alcohol and 8 g/L r.s.) and nicely combining Mosel-like floral daintiness and Schonenbourg power. You'd never guess this was made in a hot year like 2009. Finishes very long and vibrant, with ripe acidity typical of this site. This is the third vintage of the Schoelhammer to be released and it is hands-down not just my favorite, but also by far the best, purest and most precise wine of the three. Delicious.

More Info

Alsace
2
-

Inc. GST

SG$1,133.44

Alsace
1
97 (DC)

Inc. GST

SG$1,142.01

Decanter (97)

The crown in the Hugel jewels, Schoelhammer comes from 30 rows in the core of Grand Cru Shoenenbourg, high above Riquewihr. An intense, dry and mineral-charged Riesling with floral aromas and concentrated lime/lemon zest flavours. Fermented in neutral oak, this retains absolute purity and clarity of flavour. Bottled in Spring 2012, this vintage was first released in 2018. Still very youthful and with decades ahead.

More Info

Alsace
2
-

Inc. GST

SG$896.08

Alsace
10
-

Inc. GST

SG$275.94

Alsace
10
-

Inc. GST

SG$275.94

Alsace
4
-

Inc. GST

SG$463.75

Alsace
4
-

Inc. GST

SG$837.56

Alsace
1
-

Inc. GST

SG$565.27

Alsace
5
95 (VN)

Inc. GST

SG$628.99

Vinous (95)

Deep golden yellow; this has a beautiful golden color associated most often with dessert wines. Perfumed aromas of ripe peach and tropical fruit, honey and sweet spices are complicated by noteworthy marmelady botrytis. Then rich, dense and luscious, showing a mouth-coating presence to ripe mango, grapefruit, papaya and peach flavors complicated by vanilla and other sweet spices. Finishes long and penetrating, with an ultra-suave and fleshy mouthfeel and noteworthy residual sugar but more than enough acidity to keep this opulent, luscious wine light and lively. This cannot be mistaken in any way for a classically dry white wine, as it is noticeably sweet, but it's so rich and luscious that it can easily pair with roast chicken, mushroom and cream dishes, though I think it will probably prove most enjoyable with desserts, aged and blue cheeses and on its own. Knockout wine of monumental concentration and impeccable balance, if in a very sweet style. The noble rot really kicks up the complexity more than just a notch. This is the best Grasberg that I remember in years. Well done.

More Info

Alsace
2
98 (WA)

Inc. GST

SG$1,187.46

Wine Advocate (98)

The 2015 Grand Cru Schoenenbourg opens clear, intense, precise and floral on the nose, with concentrated lemon confit and smoky gypsum flavors. This 2015 is really concentrated on the nose and displays a gorgeously fresh and vegetal greeniness. Sweet, finessed and lush on the creamy textured palate, this is a very precise and concentrated Schonenbourg with a very long, intense and seductive finish. There is great elegance, finesse and complexity here. Very salty. This is a great long-distance runner.

More Info

Alsace
1
96 (JS)

Inc. GST

SG$692.80

James Suckling (96)

What a seductive bouquet this fragrant and graceful Alsace pinot noir has! The stunning balance of very fine tannins and delicate "sweetness" that pervades the very long, super-silky finish remind me of Grand Cru Musigny from Burgundy. From biodynamically grown grapes with Demeter certification. Drink or hold.

More Info

Alsace
3
-

Inc. GST

SG$451.87
Product Name
Region
Qty
Score
Price

Alsace
1
-

In Bond

SG$547.00

Alsace
2
-

In Bond

SG$887.00

Alsace
1
-

In Bond

SG$761.00

Alsace
2
-

In Bond

SG$909.00

Alsace
2
-

In Bond

SG$833.00

Alsace
2
-

In Bond

SG$438.00

Alsace
2
-

In Bond

SG$930.00

Alsace
2
-

In Bond

SG$214.00

Alsace
10
-

In Bond

SG$228.00

Alsace
1
-

In Bond

SG$227.00

Alsace
2
91 (VN)

In Bond

SG$460.00

Vinous (91)

Pale yellow-gold. Very perfumed aromas of rose water, grapefruit, cured meat and nutmeg show lovely lift. Clean, precise and not especially opulent, offering spicy flavors of yellow fruit, freshly baked bread and noteworthy inner-mouth perfume. Closes lively and long, with lingering aromatic interest. Does not taste as sweet as the numbers indicate (18 g/L of r.s and only 2.8 g/L total acidity).

More Info

Alsace
4
-

In Bond

SG$508.00

Alsace
10
-

In Bond

SG$279.00

Alsace
10
-

In Bond

SG$289.00

Alsace
1
89-91 (VN)

In Bond

SG$422.00

Vinous (89-91)

Stony, complex nose features white flowers, mint, quinine, lemon and lime. Rich and dense, with a dusty sense of minerality. As stony as this riesling is, it not at all hard. Finishes very long, with a whiplash of flavor. This comes across as dryer than the Tradition even though it's carrying a few more grams of sugar (10, vs. 7, with the same 13.2% alcohol), due to its stronger mineral character and higher acidity. Will be long-lived.

More Info

Alsace
1
96 (JS)

In Bond

SG$1,600.00

James Suckling (96)

Decadent and rich with mango, papaya, citrus, and mineral. Slate too. Full-bodied, dry and fruity. It really shows great length and complexity. First vintage of this single vineyard wine from the best parcel of the Schonenberg. Contrasty. Drink now.

More Info

Alsace
1
96 (JS)

In Bond

SG$998.00

James Suckling (96)

A very complex rose petal and herbal riesling that is ridiculously fresh for almost a decade of age. Very muscular and concentrated, but still cool and fresh with enormous mineral depth at the finish. Just coming to its peak, but decades of aging potential!

More Info

Alsace
2
94 (VN)

In Bond

SG$998.00

Vinous (94)

Luminous straw-green. Knockout nose of fresh and dried fruits, marzipan, honey, lychee and white flowers. Clean, fresh and juicy, offering flavors of fruit salad and fresh citrus complicated by almond milk and floral nuances. Deceptively easy to drink but very dense and deep, showcasing lovely balance (7.2 g/L total acidity, 13.6% alcohol and 8 g/L r.s.) and nicely combining Mosel-like floral daintiness and Schonenbourg power. You'd never guess this was made in a hot year like 2009. Finishes very long and vibrant, with ripe acidity typical of this site. This is the third vintage of the Schoelhammer to be released and it is hands-down not just my favorite, but also by far the best, purest and most precise wine of the three. Delicious.

More Info

Alsace
2
-

In Bond

SG$998.00

Alsace
1
97 (DC)

In Bond

SG$1,000.00

Decanter (97)

The crown in the Hugel jewels, Schoelhammer comes from 30 rows in the core of Grand Cru Shoenenbourg, high above Riquewihr. An intense, dry and mineral-charged Riesling with floral aromas and concentrated lime/lemon zest flavours. Fermented in neutral oak, this retains absolute purity and clarity of flavour. Bottled in Spring 2012, this vintage was first released in 2018. Still very youthful and with decades ahead.

More Info

Alsace
2
-

In Bond

SG$800.00

Alsace
10
-

In Bond

SG$206.00

Alsace
10
-

In Bond

SG$206.00

Alsace
4
-

In Bond

SG$370.00

Alsace
4
-

In Bond

SG$728.00

Alsace
1
-

In Bond

SG$464.00

Alsace
5
95 (VN)

In Bond

SG$523.00

Vinous (95)

Deep golden yellow; this has a beautiful golden color associated most often with dessert wines. Perfumed aromas of ripe peach and tropical fruit, honey and sweet spices are complicated by noteworthy marmelady botrytis. Then rich, dense and luscious, showing a mouth-coating presence to ripe mango, grapefruit, papaya and peach flavors complicated by vanilla and other sweet spices. Finishes long and penetrating, with an ultra-suave and fleshy mouthfeel and noteworthy residual sugar but more than enough acidity to keep this opulent, luscious wine light and lively. This cannot be mistaken in any way for a classically dry white wine, as it is noticeably sweet, but it's so rich and luscious that it can easily pair with roast chicken, mushroom and cream dishes, though I think it will probably prove most enjoyable with desserts, aged and blue cheeses and on its own. Knockout wine of monumental concentration and impeccable balance, if in a very sweet style. The noble rot really kicks up the complexity more than just a notch. This is the best Grasberg that I remember in years. Well done.

More Info

Alsace
2
98 (WA)

In Bond

SG$1,050.00

Wine Advocate (98)

The 2015 Grand Cru Schoenenbourg opens clear, intense, precise and floral on the nose, with concentrated lemon confit and smoky gypsum flavors. This 2015 is really concentrated on the nose and displays a gorgeously fresh and vegetal greeniness. Sweet, finessed and lush on the creamy textured palate, this is a very precise and concentrated Schonenbourg with a very long, intense and seductive finish. There is great elegance, finesse and complexity here. Very salty. This is a great long-distance runner.

More Info

Alsace
1
96 (JS)

In Bond

SG$590.00

James Suckling (96)

What a seductive bouquet this fragrant and graceful Alsace pinot noir has! The stunning balance of very fine tannins and delicate "sweetness" that pervades the very long, super-silky finish remind me of Grand Cru Musigny from Burgundy. From biodynamically grown grapes with Demeter certification. Drink or hold.

More Info

Alsace
3
-

In Bond

SG$359.00