Central Otago
Central Otago is a wine region located in the southern part of New Zealand's South Island, known for producing exceptional wines, particularly Pinot Noir. The region's unique climate and soil conditions provide ideal growing conditions for a variety of grape varieties, and it has gained a reputation as one of the world's top Pinot Noir producing regions.

One of the most famous vineyards in Central Otago is the Felton Road Winery, known for producing some of the region's finest Pinot Noir wines. The estate is also known for its Chardonnay and Riesling wines and is dedicated to organic and biodynamic farming practices.

Another well-known vineyard in Central Otago is the Gibbston Valley Winery, located in the heart of the region. The estate produces a range of high-quality wines, including Pinot Noir, Chardonnay, and Sauvignon Blanc, and is known for its focus on sustainable and organic winemaking practices.

The Mount Difficulty Winery is another famous vineyard in Central Otago, known for its range of award-winning Pinot Noir wines. The estate is dedicated to sustainable farming practices and is committed to producing wines that reflect the unique terroir of the region.

In addition to these famous vineyards, Central Otago is home to many other wineries that produce exceptional wines. The region is particularly known for its Pinot Noir wines, which are characterized by their elegance, complexity, and depth of flavour.
Central Otago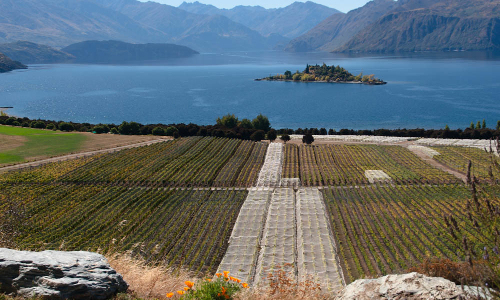 Name
Price Low
Price High
Year (Old)
Year (New)
Product Name
Region
Qty
Score
Price

Central Otago
5
-

Inc. GST

SG$478.87

Central Otago
2
-

Inc. GST

SG$477.84

Central Otago
2
-

Inc. GST

SG$714.42

Central Otago
1
97 (BC)

Inc. GST

SG$835.34

Bob Campbell (97)

I never swallow samples during tasting but got pretty close with this wine. It's just so damn delicious with layer upon layer of fruit and savoury characters that defy description. A tease of fruit sweetness is balanced by gentle tannins and subtle acidity that drive a very lengthy finish. A seriously good Pinot Noir.

More Info

Central Otago
1
96 (TRR)

Inc. GST

SG$492.96

The Real Review (96)

Intense, vibrant pinot noir showing real depth and complexity with nuanced floral, dark cherry and raspberry flavours together with thyme, anise, spice and a suggestion of white pepper. A backbone of fruity acidity reveals energy and helps to promote a lingering finish. A serious wine from one of Central Otago's top producers.

More Info

Central Otago
1
97 (VN)

Inc. GST

SG$586.87

Vinous (97)

The 2020 Pinot Noir Burn Cottage Vineyard is not a wine that I want to deconstruct into its components as it exemplifies balance, harmony and completeness, and I want to drink a lot of it. It is a wine that is the sum of its parts rather than its individual elements. It is young and can be approached now, but deserves bottle aging. It is full-bodied and suave but being from Central Otago - at the bottom of the earth next stop penguins - it has a sense of coolness and freshness, enlivening its entirety and retaining a sense of melodic direction among the mellow bass sections. There's a very small percentage of whole clusters (7%) that combine with the natural garrigue notes of Central Otago Pinot to provide herbal lift alongside pure cherry fruit and carefully judged oak.

More Info

Central Otago
1
95 (BC)

Inc. GST

SG$659.30

Bob Campbell MW (95)

Delicately-scented pinot noir with appealing violet, red rose, dark cherry, anise and subtle smoky oak flavours. A supple wine with an ethereal, seamless texture. This entry-level pinot noir sets the bar high for the more illustrious labels.

More Info

Central Otago
4
92 (VN)

Inc. GST

SG$642.00

Vinous (92)

The 2020 Pinot Noir Bannockburn is welcoming as well as rich, savory and sinewy, delivering a plump cloud of both lifted and brooding fruit: a portion of whole-cluster fermentation has brought herbal and violet high notes alongside red and black cherry. There's excellent concentration despite this being the entry to the Felton Pinot range, and fine, lightly furry tannins on the medium-long finish. This could be approached now, but it's better to wait a couple of years to let the components settle.

More Info

Central Otago
1
-

Inc. GST

SG$1,042.63

Central Otago
1
95 (VN)

Inc. GST

SG$1,593.48

Vinous (95)

As tightly and intricately woven as a basket, the 2020 Pinot Noir Block 3 may be supple and inviting initially, but there's no mistaking its honed power and tightly knit style. It offers an array of aromatics, from lifted tones of violets, blueberry and woody herbs to black raspberries to the earthy, warming spices of French oak (30% new). Full of energy and a sense of urgency, thanks to its mouthwatering acidity, delivering assured tannic grip and long length.

More Info

Central Otago
1
93 (WA)

Inc. GST

SG$885.02

Wine Advocate (93)

The 2018 Calvert Pinot Noir displays intertwined briary notes of red raspberries and resinous herbs. It's medium-bodied, with supple, slightly dusty tannins, but there's also a wiry backbone of acidity that further brightens the wine and imparts terrific length on the mocha-tinged finish.

More Info

Central Otago
1
94 (VN)

Inc. GST

SG$983.28

Vinous (94)

The 2020 Pinot Noir Calvert may initially seem smooth and refined, but there's no escaping its sense of power; it packs a punch with its concentrated core and structured tannic frame. While you'll find cherry-like fruit and a floral lift, there's a distinctly savory edge to this vintage, which displays Worcestershire sauce, spice and fruitcake alongside herbal notes. It achieves a wonderful balance between the core of ripe fruit and the powerful structure. A Calvert has the brawn to age and will benefit from more time in bottle.

More Info

Central Otago
3
-

Inc. GST

SG$981.14

Central Otago
1
-

Inc. GST

SG$922.80

Central Otago
2
-

Inc. GST

SG$1,100.95

Central Otago
2
-

Inc. GST

SG$823.46

Central Otago
2
97 (WP)

Inc. GST

SG$650.66

Wine Pilot (97)

Mid cherry red in colour it opens with beautifully seductive aromas. Powerful sweet dark cherry fruit with prominent young oak are lifted by savoury mushroom consommé, and truffle with a dusting of spice. It's then dry, finely balanced and quite light weight for Otago thanks to that vineyard altitude, yet still carries a powerful core of fleshy, gamey fruits with bright acidity and mouthcoating tannins. The finish is long and strong, with a classic peacock's tail gaining more floral and spicy complexity as it lingers till the very end. It's seriously impressive and an outstanding first release. It might not be cheap, but it is worth every cent, and more.

More Info

Central Otago
1
97 (JS)

Inc. GST

SG$416.28

James Suckling (97)

This marries violets, blueberries and darker cherries in a very pure and composed style with gentle bracken and sappy allure. The palate has a succulent, juicy and very fresh feel with neatly carved, fine tannin that holds long, direct and deep. Such regal depth and savory tannin resolve. From organically grown grapes. Drink or hold. Screw cap.

More Info

Central Otago
1
98 (CD)

Inc. GST

SG$559.96

Cameron Douglas MS (98)

Totally captivating bouquet, exotic spices, elegance and finesse. Both the nose and palate offer a pure fruit attack with white peach and pear then apple and white flowers, very fragrant. A soft salty mineral layer adds texture, depth and complexity - and reflects the wild ferment technique. Satin through silk and fine creamy texture, fine tannins, long finish. Drink now and through 2024.

More Info

Central Otago
2
96 (WO)

Inc. GST

SG$399.06

Wine Orbit (96)

Gorgeously fruited and splendidly styled, showing sweet plum, thyme, roasted nut and warm mushroom aromas, the wine exhibits awesome concentration and richness, while remaining elegant and refined. Plush and persistent with fine grainy tannins, finishing superbly long and satisfying. Certified organic. At its best: now to 2032.

More Info

Central Otago
4
95 (DC)

Inc. GST

SG$326.68

Decanter (95)

Flinty reduction and gentle smoke appear briefly before that fulsome Central Otago fruit takes over: think ripe red cherry edged with hints of ivy. The palate has the same juiciness but also a crunchy, graceful but firm tannin structure along with shimmering nuances of white pepper spice. This is made to last the distance, so buy some, cellar it and wait two or three years.

More Info
Product Name
Region
Qty
Score
Price

Central Otago
5
-

In Bond

SG$384.00

Central Otago
2
-

In Bond

SG$387.00

Central Otago
2
-

In Bond

SG$612.00

Central Otago
1
97 (BC)

In Bond

SG$720.00

Bob Campbell (97)

I never swallow samples during tasting but got pretty close with this wine. It's just so damn delicious with layer upon layer of fruit and savoury characters that defy description. A tease of fruit sweetness is balanced by gentle tannins and subtle acidity that drive a very lengthy finish. A seriously good Pinot Noir.

More Info

Central Otago
1
96 (TRR)

In Bond

SG$401.00

The Real Review (96)

Intense, vibrant pinot noir showing real depth and complexity with nuanced floral, dark cherry and raspberry flavours together with thyme, anise, spice and a suggestion of white pepper. A backbone of fruity acidity reveals energy and helps to promote a lingering finish. A serious wine from one of Central Otago's top producers.

More Info

Central Otago
1
97 (VN)

In Bond

SG$484.00

Vinous (97)

The 2020 Pinot Noir Burn Cottage Vineyard is not a wine that I want to deconstruct into its components as it exemplifies balance, harmony and completeness, and I want to drink a lot of it. It is a wine that is the sum of its parts rather than its individual elements. It is young and can be approached now, but deserves bottle aging. It is full-bodied and suave but being from Central Otago - at the bottom of the earth next stop penguins - it has a sense of coolness and freshness, enlivening its entirety and retaining a sense of melodic direction among the mellow bass sections. There's a very small percentage of whole clusters (7%) that combine with the natural garrigue notes of Central Otago Pinot to provide herbal lift alongside pure cherry fruit and carefully judged oak.

More Info

Central Otago
1
95 (BC)

In Bond

SG$557.00

Bob Campbell MW (95)

Delicately-scented pinot noir with appealing violet, red rose, dark cherry, anise and subtle smoky oak flavours. A supple wine with an ethereal, seamless texture. This entry-level pinot noir sets the bar high for the more illustrious labels.

More Info

Central Otago
4
92 (VN)

In Bond

SG$539.00

Vinous (92)

The 2020 Pinot Noir Bannockburn is welcoming as well as rich, savory and sinewy, delivering a plump cloud of both lifted and brooding fruit: a portion of whole-cluster fermentation has brought herbal and violet high notes alongside red and black cherry. There's excellent concentration despite this being the entry to the Felton Pinot range, and fine, lightly furry tannins on the medium-long finish. This could be approached now, but it's better to wait a couple of years to let the components settle.

More Info

Central Otago
1
-

In Bond

SG$906.00

Central Otago
1
95 (VN)

In Bond

SG$1,420.00

Vinous (95)

As tightly and intricately woven as a basket, the 2020 Pinot Noir Block 3 may be supple and inviting initially, but there's no mistaking its honed power and tightly knit style. It offers an array of aromatics, from lifted tones of violets, blueberry and woody herbs to black raspberries to the earthy, warming spices of French oak (30% new). Full of energy and a sense of urgency, thanks to its mouthwatering acidity, delivering assured tannic grip and long length.

More Info

Central Otago
1
93 (WA)

In Bond

SG$766.00

Wine Advocate (93)

The 2018 Calvert Pinot Noir displays intertwined briary notes of red raspberries and resinous herbs. It's medium-bodied, with supple, slightly dusty tannins, but there's also a wiry backbone of acidity that further brightens the wine and imparts terrific length on the mocha-tinged finish.

More Info

Central Otago
1
94 (VN)

In Bond

SG$855.00

Vinous (94)

The 2020 Pinot Noir Calvert may initially seem smooth and refined, but there's no escaping its sense of power; it packs a punch with its concentrated core and structured tannic frame. While you'll find cherry-like fruit and a floral lift, there's a distinctly savory edge to this vintage, which displays Worcestershire sauce, spice and fruitcake alongside herbal notes. It achieves a wonderful balance between the core of ripe fruit and the powerful structure. A Calvert has the brawn to age and will benefit from more time in bottle.

More Info

Central Otago
3
-

In Bond

SG$855.00

Central Otago
1
-

In Bond

SG$799.00

Central Otago
2
-

In Bond

SG$960.00

Central Otago
2
-

In Bond

SG$709.00

Central Otago
2
97 (WP)

In Bond

SG$549.00

Wine Pilot (97)

Mid cherry red in colour it opens with beautifully seductive aromas. Powerful sweet dark cherry fruit with prominent young oak are lifted by savoury mushroom consommé, and truffle with a dusting of spice. It's then dry, finely balanced and quite light weight for Otago thanks to that vineyard altitude, yet still carries a powerful core of fleshy, gamey fruits with bright acidity and mouthcoating tannins. The finish is long and strong, with a classic peacock's tail gaining more floral and spicy complexity as it lingers till the very end. It's seriously impressive and an outstanding first release. It might not be cheap, but it is worth every cent, and more.

More Info

Central Otago
1
97 (JS)

In Bond

SG$330.00

James Suckling (97)

This marries violets, blueberries and darker cherries in a very pure and composed style with gentle bracken and sappy allure. The palate has a succulent, juicy and very fresh feel with neatly carved, fine tannin that holds long, direct and deep. Such regal depth and savory tannin resolve. From organically grown grapes. Drink or hold. Screw cap.

More Info

Central Otago
1
98 (CD)

In Bond

SG$467.00

Cameron Douglas MS (98)

Totally captivating bouquet, exotic spices, elegance and finesse. Both the nose and palate offer a pure fruit attack with white peach and pear then apple and white flowers, very fragrant. A soft salty mineral layer adds texture, depth and complexity - and reflects the wild ferment technique. Satin through silk and fine creamy texture, fine tannins, long finish. Drink now and through 2024.

More Info

Central Otago
2
96 (WO)

In Bond

SG$320.00

Wine Orbit (96)

Gorgeously fruited and splendidly styled, showing sweet plum, thyme, roasted nut and warm mushroom aromas, the wine exhibits awesome concentration and richness, while remaining elegant and refined. Plush and persistent with fine grainy tannins, finishing superbly long and satisfying. Certified organic. At its best: now to 2032.

More Info

Central Otago
4
95 (DC)

In Bond

SG$251.00

Decanter (95)

Flinty reduction and gentle smoke appear briefly before that fulsome Central Otago fruit takes over: think ripe red cherry edged with hints of ivy. The palate has the same juiciness but also a crunchy, graceful but firm tannin structure along with shimmering nuances of white pepper spice. This is made to last the distance, so buy some, cellar it and wait two or three years.

More Info
Name
Price Low
Price High
Year (Old)
Year (New)