Puglia
Welcome to the captivating region of Puglia, an enchanting land of sun-drenched landscapes and extraordinary wines. As an expert with a discerning palate, you possess a deep appreciation for the rich viticultural heritage, diverse terroir, and exceptional quality that define Puglia wines. Join us on a journey to explore the finest expressions of this remarkable region, where ancient vineyards, indigenous grape varieties, and winemaking expertise converge.

Puglia is home to a plethora of renowned vineyards that have earned international acclaim for their exceptional wines. Among the most esteemed estates is Tormaresca, a visionary winery owned by the renowned Antinori family. Known for its commitment to sustainable practices and the production of top-quality wines, Tormaresca showcases the potential of Puglia's terroir and indigenous grape varieties.

Another prominent vineyard in Puglia is Cantele, a family-owned estate that combines tradition and innovation to craft wines of exceptional character. With a focus on indigenous grapes such as Primitivo, Negroamaro, and Fiano, Cantele creates wines that reflect the region's unique identity and express the essence of Puglia.

Other notable vineyards in Puglia include Castel del Monte, known for its elegant and structured wines, and Masseria Li Veli, celebrated for its commitment to organic farming and the production of high-quality Primitivo and Negroamaro wines. Cantine San Marzano and Rivera are also esteemed estates, recognized for their dedication to showcasing the diversity and potential of Puglia's terroir.

Puglia's diverse terroir, characterized by rich limestone and clay soils, as well as a warm Mediterranean climate, provide the ideal conditions for cultivating a wide range of grape varieties. Primitivo, Negroamaro, Fiano, and Bombino Nero are among the region's iconic grapes, each contributing to the unique character and personality of Puglia wines.

Puglia wines enthrall the senses with their vibrant colors, intense aromas, and robust flavors. From the bold and structured Primitivo reds to the fresh and aromatic whites, these wines offer a captivating journey through the terroir and cultural heritage of Puglia.
Puglia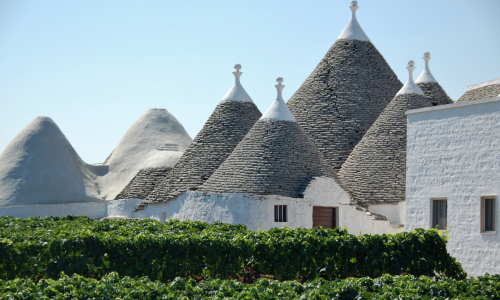 Name
Price Low
Price High
Year (Old)
Year (New)
Product Name
Region
Qty
Score
Price

Puglia
5
-

Inc. GST

SG$395.78

Puglia
10
-

Inc. GST

SG$392.49

Puglia
1
-

Inc. GST

SG$1,700.35

Caramel, vermouth rosso colour. On the nose slight hints of sandalwood, with undertones of toasted almonds, pine nuts and dried apricots. The mouth is very light, opening on Oloroso sherry characters, walnut, balsamic and dried fruits. The mid pallet reveals a little sweetness with notes of black cherries and oriental spices. Finish raw cocoa nibs and tamarind with an interesting balance of bitterness and savouriness.

More Info

Puglia
1
97 (WA)

Inc. GST

SG$804.21

Wine Advocate (97)

No, the vintage date of this wine is not an error. Just released, it is a selection of old-vine Primitivo grown south of Taranto and only now hitting the market. No one seems to know whether the fermentation was stopped by fortifying the wine or if it just stopped on its own as a result of the superlative richness of the must, but the fact remains that, with close to 14% of alcohol, it is as sweet as a great Recioto, a wine which it greatly resembles. Still an amazingly fresh ruby color, it features a decadent nose of blackberry jam, raisins, chocolate, and licorice, a texture of sheer satin, great warmth and roundness, a sweetness which never becomes cloying, precise and focused flavors, and a finish as long as the fade-out to "Hey Jude". The producer is negotiating with an importer for this and other wines, but it is presently available at Piero Selvaggio's Valentino restaurant in Santa Monica and at Alain Ducasse's Louis XV restaurant in Monte Carlo, for those willing to fling a few shekels around.

More Info

Puglia
1
-

Inc. GST

SG$1,172.88

Puglia
1
-

Inc. GST

SG$2,176.57

Puglia
8
-

Inc. GST

SG$641.82

Puglia
15
-

Inc. GST

SG$394.63

Puglia
1
95 (DC)

Inc. GST

SG$552.33

Decanter (95)

Still in its infancy, this opaque red-coloured wine is very rich, juicy, and plummy on the nose, vibrant, poised and quite oaky. The attack is assertive and tannic, with richness and density, and it clearly needs time to shed its tightness. It's no heavyweight thanks to its fresh acidity, which keeps it polished and stylish, and there's ample energy and bite on the long finish.

More Info

Puglia
2
92 (VN)

Inc. GST

SG$535.05

Vinous (92)

The 2017 Aglianico Bocca di Lupo opens slow, but it is worth waiting for, as time in the glass unlocks a delicate display of wild blackberry and currant, complemented by rosy florals and a hint of smoke. Its silky textures wash across the palate, carrying mineral-tinged black fruits and savory spices, while beneath, a coating of grippy tannin takes hold. This finishes youthfully structured and poised, yet it's also packed full of tart wild berries laced with blue florals. The 2017 is already quite pleasurable today, but it should excel after only another year or two of cellaring.

More Info

Puglia
7
-

Inc. GST

SG$675.43

Puglia
3
-

Inc. GST

SG$730.51

Puglia
1
-

Inc. GST

SG$108.97

Puglia
22
-

Inc. GST

SG$373.03

Puglia
43
-

Inc. GST

SG$406.51

Puglia
5
-

Inc. GST

SG$108.97

Puglia
23
-

Inc. GST

SG$368.71

Puglia
3
-

Inc. GST

SG$195.26

Puglia
1
-

Inc. GST

SG$108.97

Puglia
10
-

Inc. GST

SG$368.71
Product Name
Region
Qty
Score
Price

Puglia
5
-

In Bond

SG$313.00

Puglia
10
-

In Bond

SG$306.00

Puglia
1
-

In Bond

SG$1,515.00

Caramel, vermouth rosso colour. On the nose slight hints of sandalwood, with undertones of toasted almonds, pine nuts and dried apricots. The mouth is very light, opening on Oloroso sherry characters, walnut, balsamic and dried fruits. The mid pallet reveals a little sweetness with notes of black cherries and oriental spices. Finish raw cocoa nibs and tamarind with an interesting balance of bitterness and savouriness.

More Info

Puglia
1
97 (WA)

In Bond

SG$709.00

Wine Advocate (97)

No, the vintage date of this wine is not an error. Just released, it is a selection of old-vine Primitivo grown south of Taranto and only now hitting the market. No one seems to know whether the fermentation was stopped by fortifying the wine or if it just stopped on its own as a result of the superlative richness of the must, but the fact remains that, with close to 14% of alcohol, it is as sweet as a great Recioto, a wine which it greatly resembles. Still an amazingly fresh ruby color, it features a decadent nose of blackberry jam, raisins, chocolate, and licorice, a texture of sheer satin, great warmth and roundness, a sweetness which never becomes cloying, precise and focused flavors, and a finish as long as the fade-out to "Hey Jude". The producer is negotiating with an importer for this and other wines, but it is presently available at Piero Selvaggio's Valentino restaurant in Santa Monica and at Alain Ducasse's Louis XV restaurant in Monte Carlo, for those willing to fling a few shekels around.

More Info

Puglia
1
-

In Bond

SG$1,020.00

Puglia
1
-

In Bond

SG$1,950.00

Puglia
8
-

In Bond

SG$523.00

Puglia
15
-

In Bond

SG$306.00

Puglia
1
95 (DC)

In Bond

SG$454.00

Decanter (95)

Still in its infancy, this opaque red-coloured wine is very rich, juicy, and plummy on the nose, vibrant, poised and quite oaky. The attack is assertive and tannic, with richness and density, and it clearly needs time to shed its tightness. It's no heavyweight thanks to its fresh acidity, which keeps it polished and stylish, and there's ample energy and bite on the long finish.

More Info

Puglia
2
92 (VN)

In Bond

SG$438.00

Vinous (92)

The 2017 Aglianico Bocca di Lupo opens slow, but it is worth waiting for, as time in the glass unlocks a delicate display of wild blackberry and currant, complemented by rosy florals and a hint of smoke. Its silky textures wash across the palate, carrying mineral-tinged black fruits and savory spices, while beneath, a coating of grippy tannin takes hold. This finishes youthfully structured and poised, yet it's also packed full of tart wild berries laced with blue florals. The 2017 is already quite pleasurable today, but it should excel after only another year or two of cellaring.

More Info

Puglia
7
-

In Bond

SG$566.00

Puglia
3
-

In Bond

SG$617.00

Puglia
1
-

In Bond

SG$91.00

Puglia
22
-

In Bond

SG$286.00

Puglia
43
-

In Bond

SG$317.00

Puglia
5
-

In Bond

SG$91.00

Puglia
23
-

In Bond

SG$282.00

Puglia
3
-

In Bond

SG$161.00

Puglia
1
-

In Bond

SG$91.00

Puglia
10
-

In Bond

SG$282.00
Name
Price Low
Price High
Year (Old)
Year (New)