Château Palmer is widely hailed as the second best estate in Margaux (behind the First Growth Château Margaux).
Château Palmer 2015 is the joint second-highest scoring vintage from Wine Advocate with 98 points. This equals the 2009, 2016 and 2018 vintages, and only the legendary Palmer 1961 (100 points WA) betters the 2015.
Château Palmer 2015 is comfortably the cheapest of the modern icons, and hence looks the standout buy today.
James Suckling singles out Palmer 2015 as "the new 1961" and gives it a perfect 100 point score. Palmer 1961 currently has a market price of £44,200 (6x75cl), a whopping 2,700% premium over the 2015!
Château Margaux 2015 scores 99 points WA but is £5,950 (6x75cl). This equates to a 279% premium over Palmer 2015.
Holders of back vintage of Château Palmer will increasingly benefit from the estate's policy of releasing less and less wine en primeur.
The success of second wine Alter Ego de Palmer underpins the valuation of the Grand Vin.
Palmer 2015 is coming into its drinking window now.
---

Château Palmer 2015 – Best Value of the 'Modern Greats'
Château Palmer 2015 jumps off the chart as the standout value amongst the modern 'greats' from this Troisième Cru Margaux estate.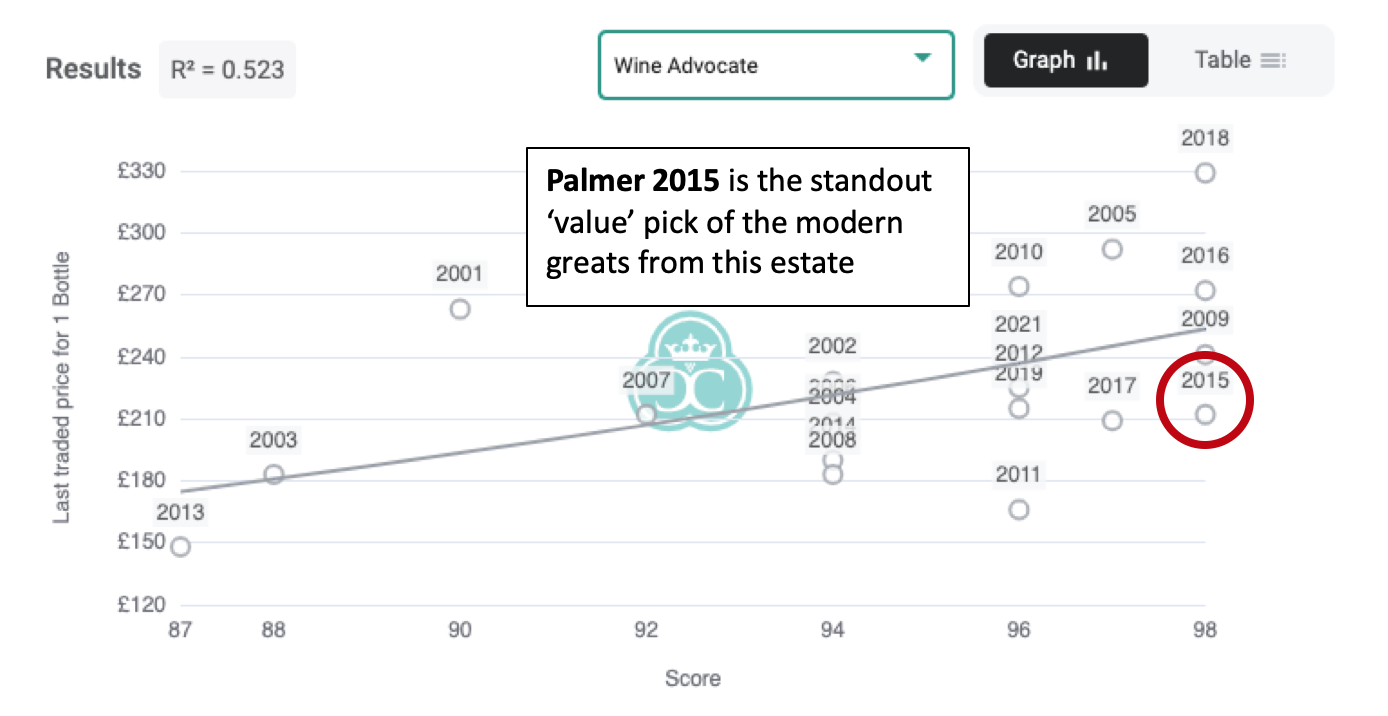 Palmer 2015 shows up as undervalued on three of our valuation metrics: i) average critic score, ii) best critic score, and iii) Wine Advocate score. We don't see any grounds for this discount to identically scored, younger, vintages, and see its current price as a great opportunity.
If James Suckling is correct and Palmer 2015 really is the "new 1961" then it has a rather attractive future ahead of it:

---
Price Momentum is Building
Price momentum is building at Château Palmer more generally. The estate's 2005 and 2010 vintages have comfortably outpaced the same vintages from Château Margaux over the past decade, with momentum gathering pace in the last two years: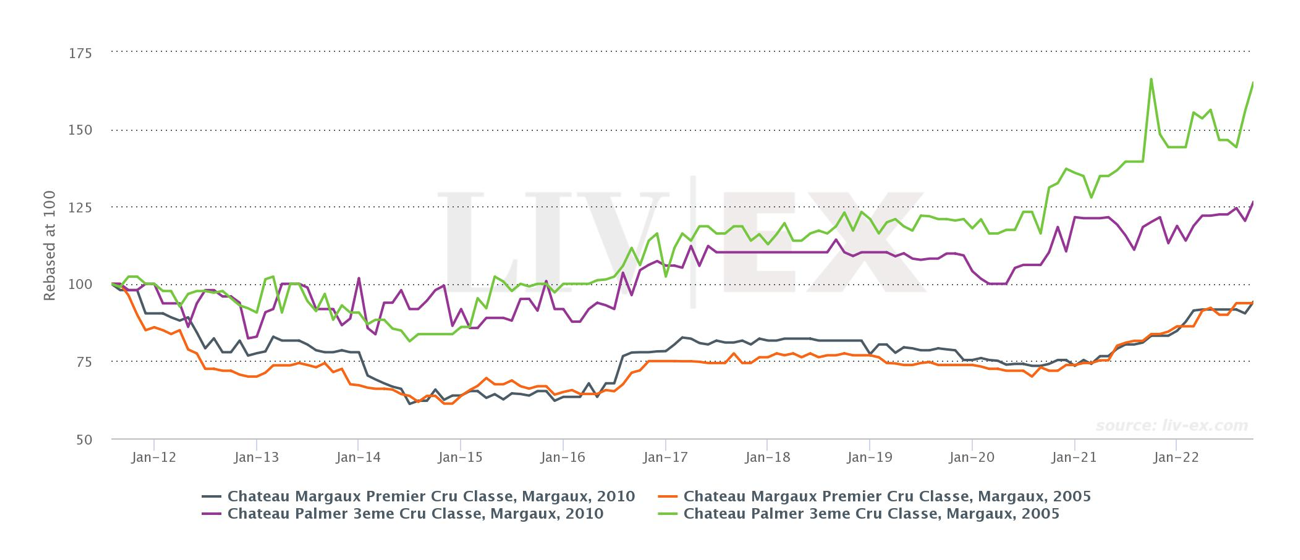 Palmer is Excellent Value versus Château Margaux
The valuation discount of Palmer 2015 to Margaux 2015 is particularly striking. Admittedly, the value of Margaux 2015 is bolstered by its special bottle (dedicated to the late winemaker Paul Pontallier), but it is still a dramatic discount, comfortably the highest of any modern vintage.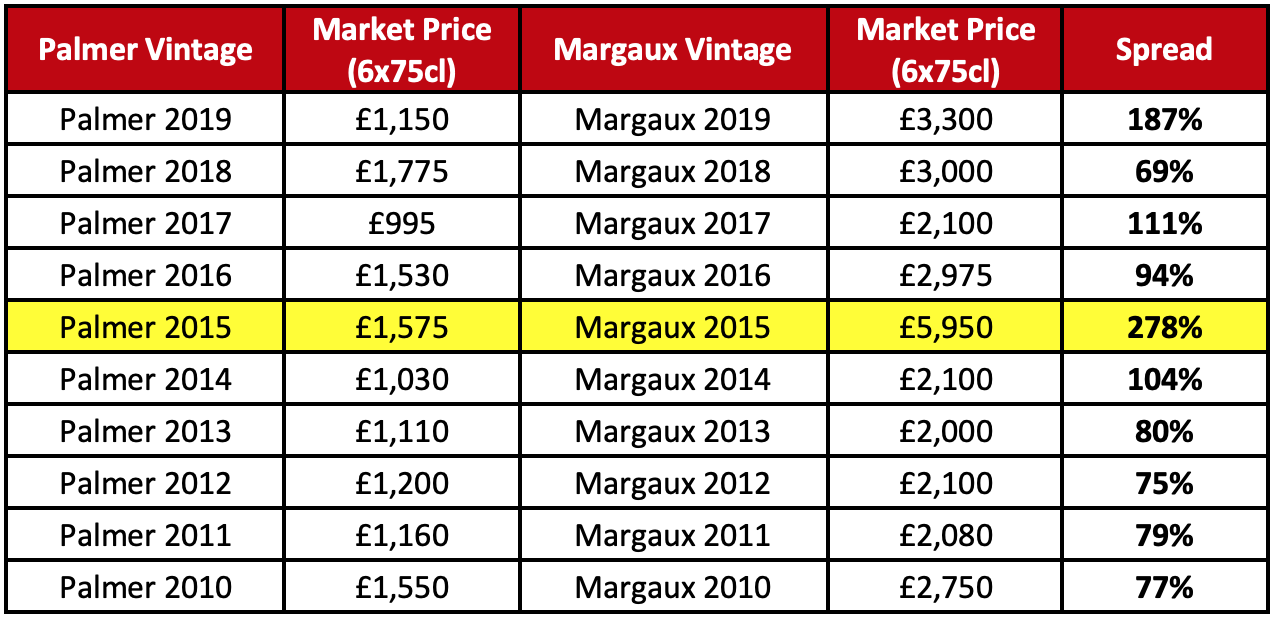 We feel that the 'reflected glory' comparison with Margaux 2015 will only enhance the prestige of Palmer 2015 over the coming decades.
Supply of Château Palmer is Increasingly Restricted
Another important consideration is Palmer's careful management of secondary market availability.
Palmer only produces 8,000-10,000 cases a year, but for a number of years now, the estate has withheld around 50% of its annual production to release only after 10 years of aging. The Château Palmer 2012 was just released this year on its 10th anniversary. This restriction of supply means less wine on the secondary market, and hence additional rarity for those limited number of cases which are available.
Is it possible Palmer could follow Château Latour and stop releasing wine en primeur altogether? It is certainly not impossible, and obviously if they were to do so it would only increase the scarcity of previously released vintages like the 2015.
Finally, it is important to note that Château Palmer has been certified biodynamic since 2017. This further reduces the supply of wine from the estate as yields are generally lower under this method of farming.
Success of Alter Ego de Palmer Underlines Palmer's Appeal
Château Palmer's second wine, Alter Ego de Palmer, is second only to those of the First Growths in appeal and global success.
At around GBP 450 (SGD 745, HKD 4,290), Alter Ego de Palmer 2015 (6x75cl) is within 20% of the price of the second wine of First Growth Château Haut-Brion. Palmer's Grand Vin, however, is trading at more like a 40% discount.

The huge demand we see for Alter Ego (and its commanding price) can only benefit the price of the first wine. To us, the Grand Vin looks pretty appealing as the second wine pushed up towards GBP 445 (SGD 745, HKD 4,290) per case.
Proximity to Château Margaux Boosts Appeal
Although it was actually once a part of the Château d'Issan estate, a glance at the aerial map underlines how close the two estates of Palmer and Margaux actually are.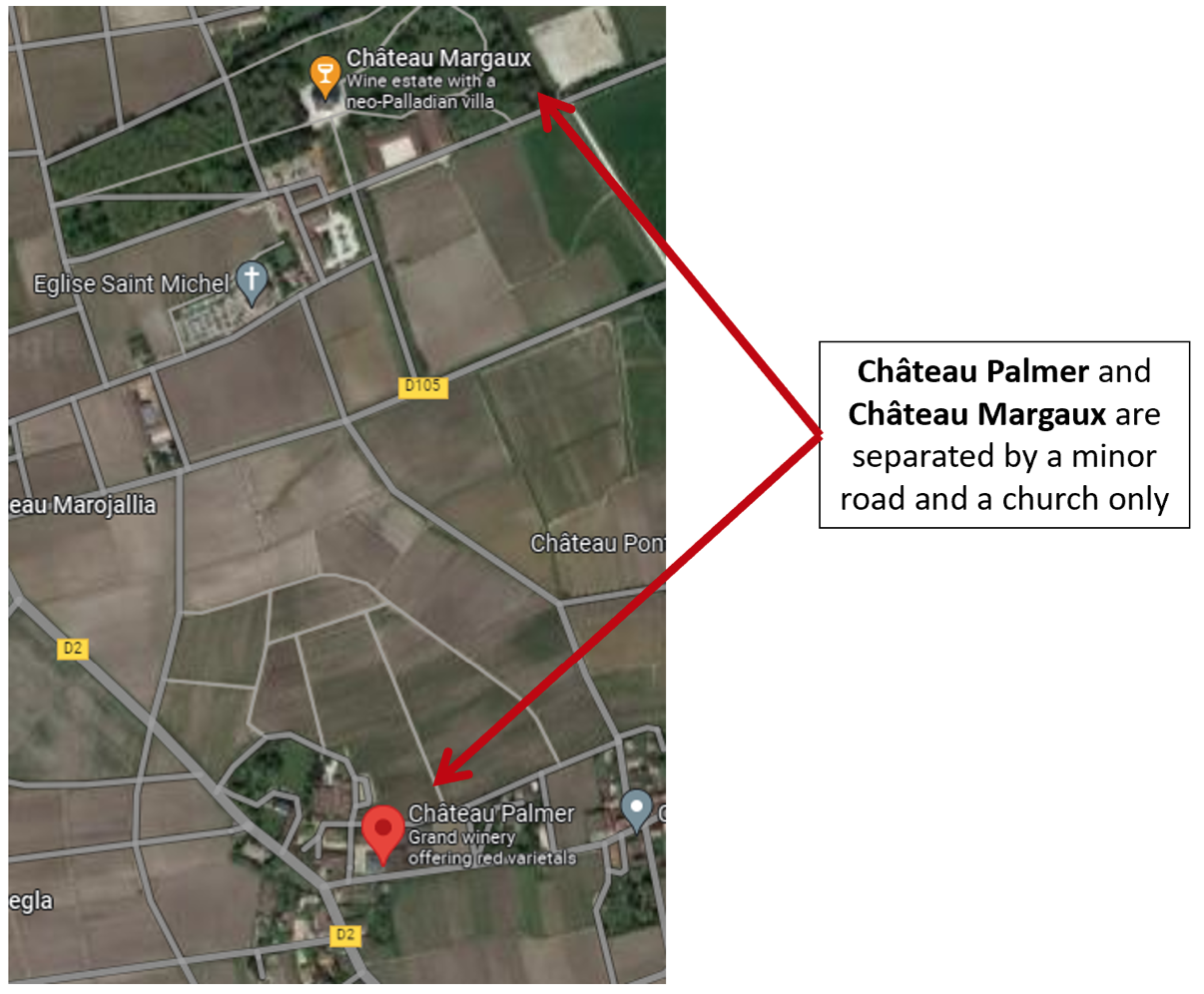 We feel confident that Palmer's position in the market as the 'alternative to Margaux' is very well established. And given the current price differential (especially in the 2015), further upside looks very possible.
Consumption Curve about to Steepen
Château Palmer 2015's drinking window has just opened, according to James Suckling. Other critics advise waiting a little while longer (Wine Advocate suggests from 2025), but as this vintage passes its eighth birthday next year there is no doubt that consumption rates will ramp up.
This is good news for holders as drinking connoisseurs increasingly descend on the market looking for offers in physical cases.
---