Masseto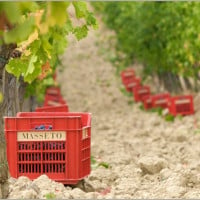 Masseto is the smallest production, most exclusive and most expensive of the main Super Tuscan wines (wines made in Tuscany from international grapes).
Made exclusively from Merlot, Masseto is celebrated across the globe for its aromatic complexity, opulent fruit and tannic structure. It is one of the world's truly great wines.
Masseto is technically an IGT Toscana, and is officially produced by Tenuta dell'Ornellaia, But everyone knows it simply as 'Masseto'. The tiny 6.6ha Masseto vineyard is a former clay quarry, and the high clay content in the soil makes the terroir similar to the best terroirs of Pomerol (Pétrus, Le Pin etc.) – ideally suited to producing extraordinarily powerful Merlot.