Saint Cosme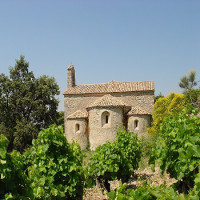 About Château Saint Cosme
Château de Saint Cosme is the benchmark estates from the appellation of Gigondas.
Lying just to the north of Gigondas village, Château de Saint Cosme is the oldest property in the entire appellation. Precision is hard to achieve when dealing with such ancient remains, but many believe the original Gallo-Roman villa, ruins of which can be seen dotted around the current estate, most likely had its own modest vineyard. Acquiring the ancient site in 1570, the Barroul family began construction of the splendid château shortly after.
Louis Barroul took up the mantle of 13 previous generations of winemakers at his family producer in 1992, and has become firmly established as one of the regions most talented and respected winemakers.
Located between two geological faults, the soil compositions and variations are like a patchwork of potential each giving life to slightly different characteristics in the vines planted there. The estate Gigondas is a blend of very old vines from three plots: Le Poste, Le Claux and Hominis Fides.