Château Lafleur is one of Bordeaux's top 'cult' wineries. Miniscule production and a long history of quality ensure that customers fight for the chance of an allocation.

The Lafleur 2017 receives rave reviews from top critics yet finds itself undervalued against comparable vintages.

The 2017 vintage in Bordeaux was mostly written off due to severe frosts during the growing season which impacted many of Bordeaux's top producers.

Favourable terroir and meticulous vineyard management meant that Lafleur were able to navigate the tricky growing conditions and produce an exceptional vintage.

Only 1,000 cases are produced a year. Château Pétrus produces over twice as much, yet Lafleur is valued significantly lower.
Best Value Vintage of Lafleur Presents an Excellent Buying Opportunity
The 2017 vintage from Lafleur has the most compelling score to price combination of any Lafleur today. This vintage sits comfortably below the fair value curve: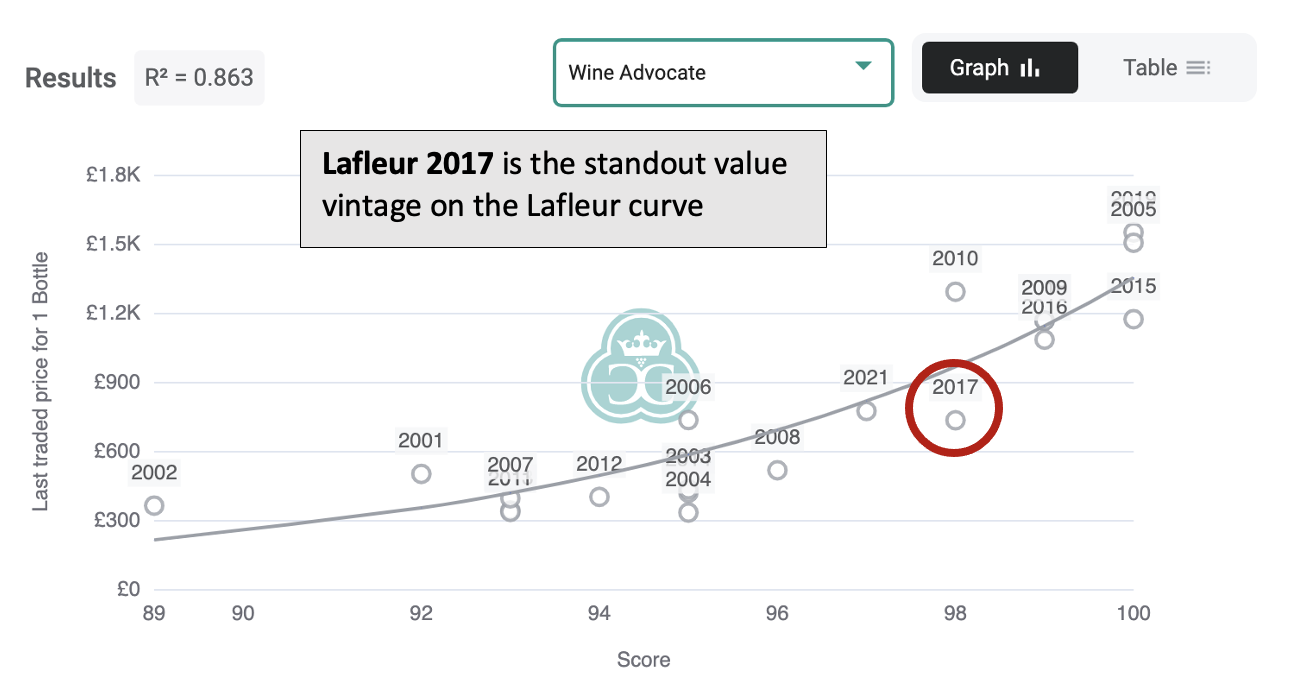 Our sales data shows that Lafleur 2017 is seriously undervalued. Using the fair value regression curve, we can see that the 'fair value' of Lafleur 2017 is significantly higher (Nearer GBP 3,000 a case).
Lafleur 2017 compares favourably to some of the very best Lafleur vintages ever produced. It looks significantly undervalued at current levels:

Lafleur 2017 receives a perfect score from Vinous and scores 98+ from the ever-influential Wine Advocate. The prices of the most comparative vintages currently trade with a premium which ranges from 52% to 64%. History suggests that, over time, anomalies like this tend to get arbitraged away. So this is a situation which is unlikely to prevail over the very long-term.
Historical Price Performance
Lafleur has historically exhibited excellent price growth, with many of the modern vintages comfortably doubling or even tripling from their release price. Despite its excellent scores, Lafleur 2017 has been slow to get off the mark with only a 50% increase from its release price (GBP 2,670 per 6x75cl) since it came to market in May 2018.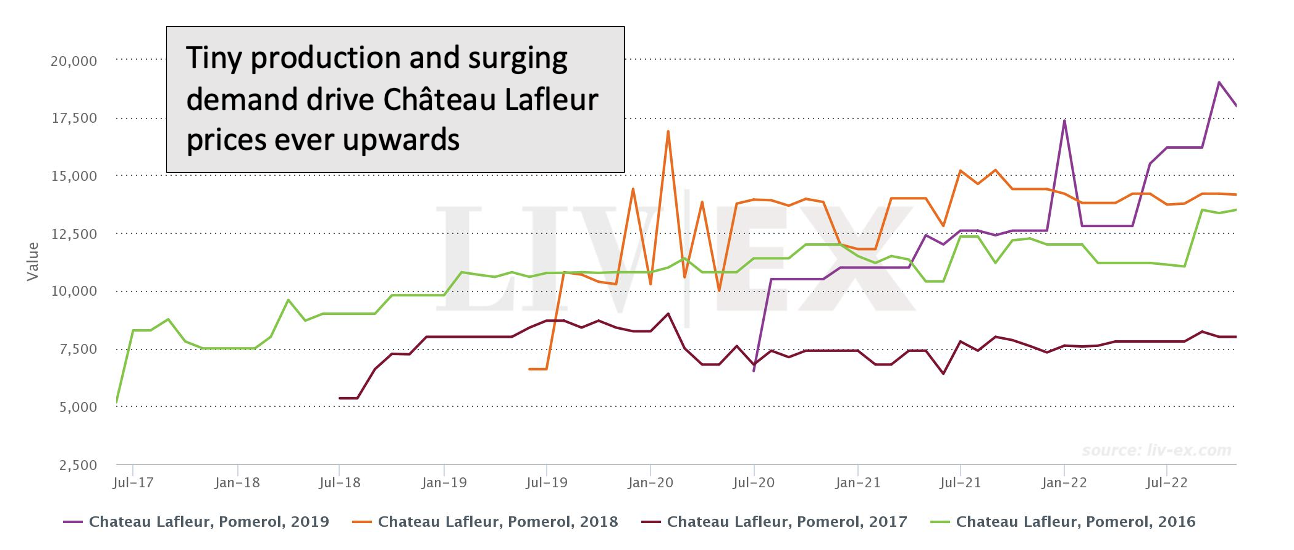 This underperformance can probably be attributed to lazy pre-conceptions about the 2017 vintage overall. Whilst it is true that the 2017 Bordeaux vintage didn't hit the highs of the three vintages that followed it, there were a number of exceptional productions, Lafleur being one of the leading examples.
Generally, the excessively restricted production of Lafleur (less than half the size of Pétrus remember) has seen this château exhibit excellent price appreciation over the last few years. As more 'celebrated' Bordeaux vintages have spiraled in price, equally high scoring years like 2017 have been left looking ever more undervalued.
Given the paucity of supply on the secondary market, we think the days of Lafleur being available at this kind of discount are fast drawing to a close.
---
[View offers of Lafleur 2017 (3x75cl)] [Special offer on (6x75cl) cases]