The GBP Pound Sterling and Euro have collapsed against the US Dollar in 2022. The GBP is at its lowest level since 1985, and the Euro is weaker than at any time since 2002.
US Dollar pegged currencies like the Hong Kong Dollar and Emirati Dirham have become dramatically stronger. The Singapore Dollar is also at it strongest for almost 20 years.
Fine wine prices are mainly priced in Euro and GBP. This creates a 'once in a generation' opportunity for US Dollar linked buyers to acquire fine wine and spirits at bargain prices.
The implications for European collectors are positive also. Global demand from 'hard currency' buyers is driving up prices in GBP and Euro, providing an effective hedge against their declining purchasing power.
Cru will continue to employ dynamic pricing to ensure that all our prices reflect the reality of local currency moves.
GBP Weakest Since 1985
The last time the GBP was this low Ronald Reagan was president of the United States and Chaka Khan topped the music charts (1985). The Euro has also sunk to its weakest level versus the US Dollar since 2002. The collapse of its two main pricing currencies has huge implications for the fine wine market.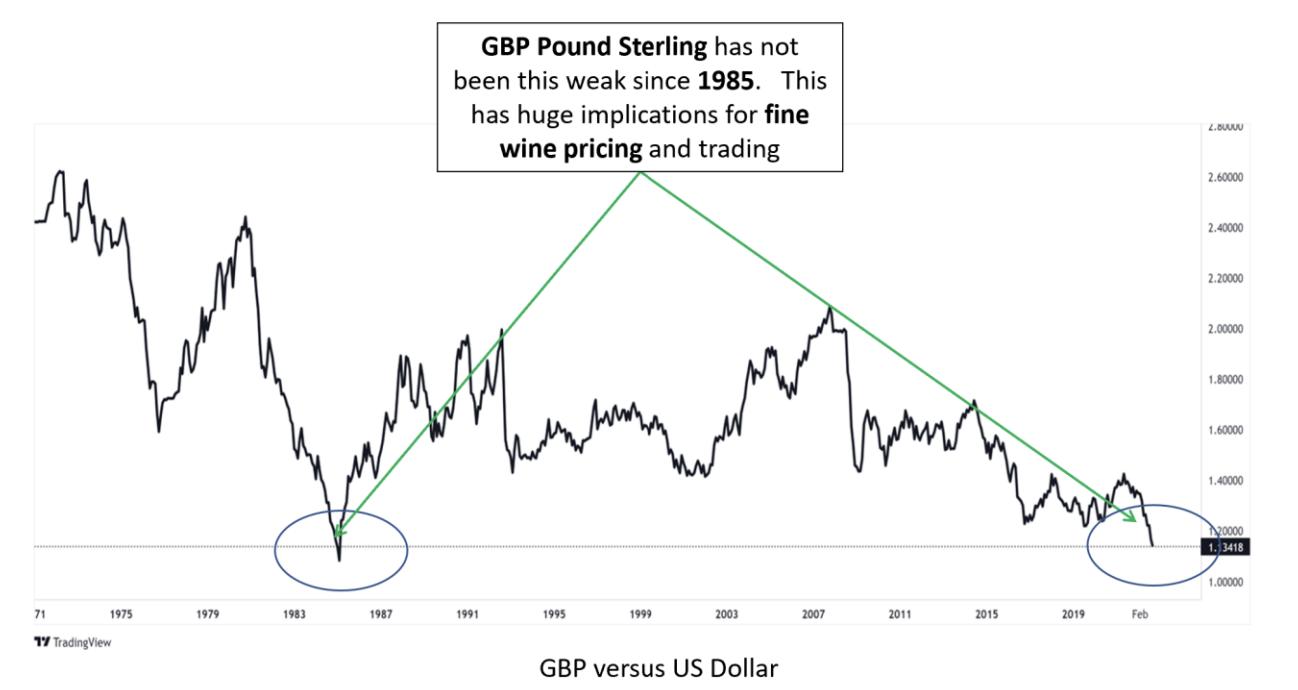 The Decline of GBP & Euro Accelerated in 2022
The long-term downtrend in GBP and Euro versus the US Dollar accelerated in 2022, with GBP down -15.9% and Euro down -12.3% this year alone.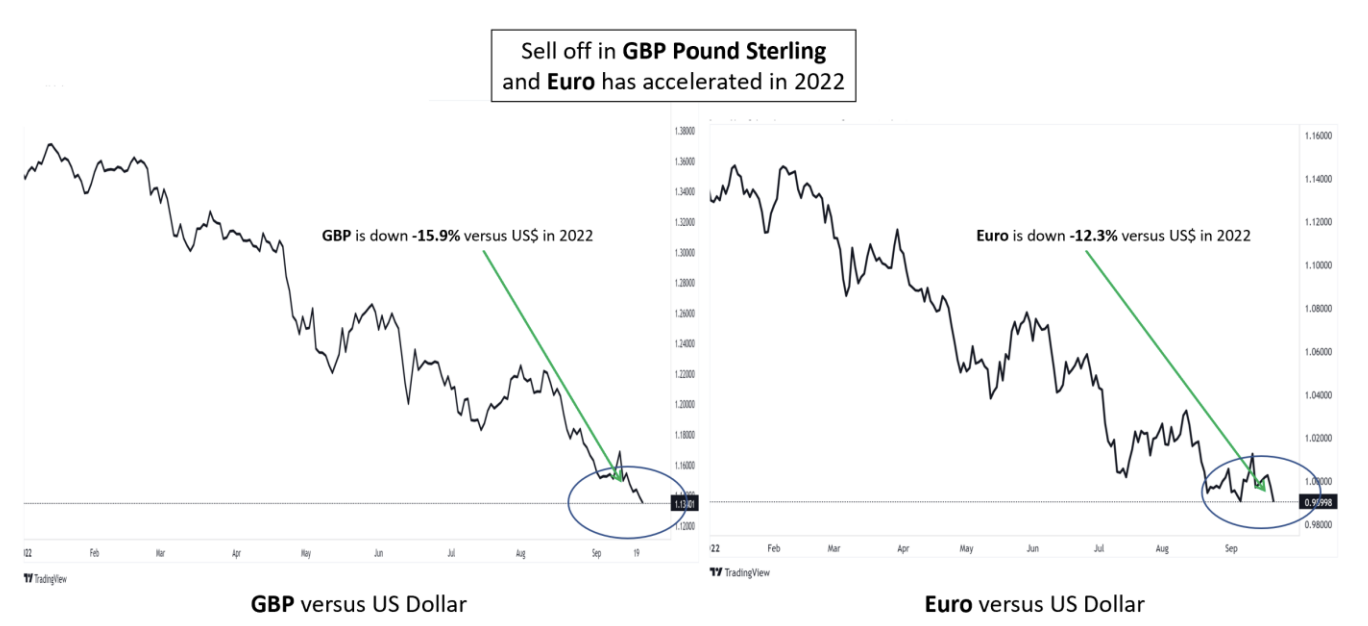 These moves are making it cheaper and cheaper for buyers using US Dollar pegged currencies (or those like the SG$ which tend to move with the US$) to acquire fine wine and spirits. This heralds a big shift in relative purchasing power and is hastening the outflow of inventory from Europe to the east (to the Middle East and Asia) and to the west (to the United States). For European collectors, it means continued upward pressure on prices in their local currency terms.
Buying Power of Dollar-Linked Currencies Skyrockets
Unlike oil, gold, silver, most commodities or bitcoin, fine wine prices are primarily set in Euros and GBP. This is because the majority of fine wine is produced in Europe, and the centre for fine wine trading remains (for now) in London.
But decline in GBP and Euro against currencies like the US Dollar, Singapore Dollar, Hong Kong Dollar and Emirati Dirham is hastening the 'de-Europeanization' of fine wine and spirts.
This is illustrated by the cost of our Cru Recommended Portfolio (the "Fab 40"). On the 1 January 2022 the portfolio cost approx. GBP 200,000 (see below). Today (22nd Sept. 2022) that same portfolio costs GBP 232,758, an impressive sounding rise of +16.4%.
But for a buyer paying in Hong Kong or Singapore Dollars, the same portfolio has barely risen this year (see below). In our view this will lead to continued upwards pressure on prices in GBP and Euro as buyers using appreciating currencies exercise their pricing power.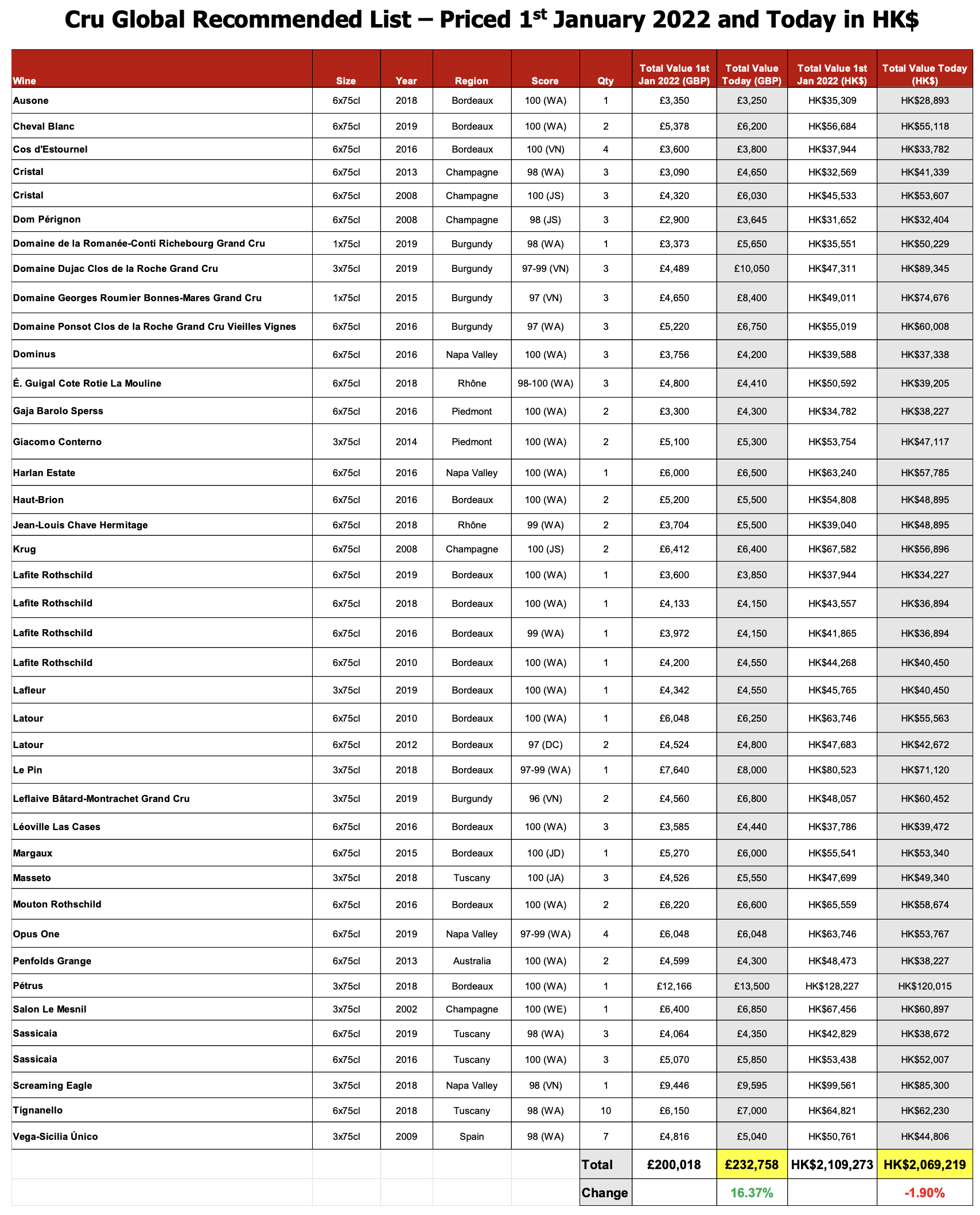 Conclusion: Currency Moves have Implications for Everyone
Wherever you are, these huge currency moves have serious implications.
For US Dollar pegged / linked currency investors, the price of fine wine is falling. This is creating a 'once in a generation' opportunity for buyers in the United States, Middle East and much of Asia (ex. Japan and China) to acquire inventory at bargain prices.
But for collectors in Europe, it matters too. The recent price action shows that fine wine can be an effective hedge against currency weakness. As the GBP and Euro sink, fine wine and spirits prices are driven upwards by global 'hard currency' demand.
So, there are reasons for everyone (cautiously) to welcome the long-term declines in GBP and Euro against the Greenback.
---
IMPORTANT NOTICE
This report has been issued or approved for issue by an entity forming part of Cru (as defined below) and has been forwarded to you solely for your information and should not be considered as an offer or solicitation of an offer to sell, buy, or subscribe to any securities or any derivative instrument or any other rights pertaining thereto ("financial instruments"). This report is intended for use by professional or business investors only. This report may not be reproduced without the consent of Cru.
The information and opinions expressed in this report have been compiled from sources believed to be reliable, but, neither Cru, nor any of its directors, officers, or employees accepts liability from any loss arising from the use hereof or makes any representations as to its accuracy and completeness. Any opinions, forecasts or estimates herein constitute a judgement as at the date of this report. There can be no assurance that future results or events will be consistent with any such opinions, forecasts, or estimates. Past performance should not be taken as an indication or guarantee of future performance, and no representation or warranty, express or implied is made regarding future performance. This information is subject to change without notice, its accuracy is not guaranteed, it may be incomplete or condensed and it may not contain all material information concerning the product or products mentioned. Cru is not agreeing to, nor is it required to update the opinions, forecasts or estimates contained herein.
The value of any products mentioned in this report can fall as well as rise. Foreign currency denominated products are subject to fluctuations in exchange rates that may have a positive or adverse effect on the value, price or income of such products.
This report does not have regard to the specific instrument objectives, financial situation and the particular needs of any specific person who may receive this report. Investors should seek financial advice regarding the appropriateness of investing in any products or investment strategies discussed in this report.
Cru (or its directors, officers or employees) may, to the extent permitted by law, own or have a position in the products of any company or related company or products referred to herein and may add to or dispose of any such position or may make a market or act as a principal in any transaction in such products. Directors of Cru may also be directors of any of the companies mentioned in this report. Cru (or its directors, officers or employees) may, to the extent permitted by law, act upon or use the information or opinions presented herein, or research or analysis on which they are based prior to the material being published. Cru may have issued other reports that are inconsistent with, and reach different conclusions from, the information presented in this report. Those reports reflect the different assumptions, views and analytical methods of the analysts who prepared them.
For the purposes of this disclaimer, "Cru" shall mean: (i) Cru London Limited; (ii) Cru Asia Limited and (iii) from time to time, in relation to Cru London Limited and/or Cru Asia Limited, the ultimate holding company of that entity, a subsidiary (or a subsidiary of a subsidiary) of that entity, a holding company of that entity or any other subsidiary of that holding company, and any affiliated entity of any such entities.
This publication is confidential for the information of the addressee only and may not be reproduced in whole or in part, copies circulated, or disclosed to another party, without the prior written consent of an entity within Cru. Products referred to in this research report may not be eligible for sale in those jurisdictions where an entity within Cru is not authorised or permitted by local law to do so. In particular, Cru does not allow the redistribution of this report to non-professional investors or persons outside the jurisdictions referred to above and Cru cannot be held responsible in any way for third parties who effect such redistribution or recipients thereof. © 2022.