Trottevieille 2019 (6x75cl)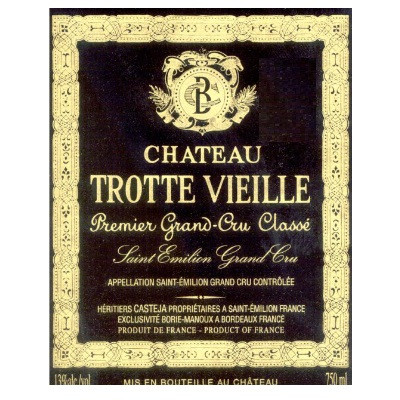 A really classy, beautiful red with seduction and force at the finish. Aromas and flavors of currants, wet earth and truffles, as well as mushrooms. Full bodied, tight and tannic. Toned and steely. A new, traditional style. 49% cabernet franc, 48% merlot and 3% cabernet sauvignon.
Reviewer Name: James Suckling
Review Date: 13th May 2020
95–97. Barrel Sample. This is going to be a great vintage for this Premier Grand Cru Classé estate. The tannins give it a dry core, lending a serious character to the wine's black currant flavors. It shows great aging potential.
Reviewer Name: Roger Voss
Review Date: 1st July 2020
The 2019 TrotteVieille is rich and explosive in the glass. A whole range of intense floral notes appears first, followed by inky dark fruit, espresso, licorice, new leather and cedar overtones that open up over time. A wine of power and stature, the 2019 is drop-dead gorgeous. There is so much complexity to the 2019 that it is hard to move on in this tasting. In a word: dazzling.
Reviewer Name: Antonio Galloni
Review Date: 10th June 2020
Details

Year

2019

Colour

Red

Country

France

Region

Bordeaux

Sub Region

Saint-Emilion Grand Cru

Designation

Pack Size

6x75cl

ABV

14.00°

LWIN

101596820190600750

Reviews (3)

A really classy, beautiful red with seduction and force at the finish. Aromas and flavors of currants, wet earth and truffles, as well as mushrooms. Full bodied, tight and tannic. Toned and steely. A new, traditional style. 49% cabernet franc, 48% merlot and 3% cabernet sauvignon.

Reviewer Name: James Suckling

Review Date: 13th May 2020

95–97. Barrel Sample. This is going to be a great vintage for this Premier Grand Cru Classé estate. The tannins give it a dry core, lending a serious character to the wine's black currant flavors. It shows great aging potential.

Reviewer Name: Roger Voss

Review Date: 1st July 2020

The 2019 TrotteVieille is rich and explosive in the glass. A whole range of intense floral notes appears first, followed by inky dark fruit, espresso, licorice, new leather and cedar overtones that open up over time. A wine of power and stature, the 2019 is drop-dead gorgeous. There is so much complexity to the 2019 that it is hard to move on in this tasting. In a word: dazzling.

Reviewer Name: Antonio Galloni

Review Date: 10th June 2020

Producer

Value Comparison