Petrus
About Pétrus
Pétrus is one of the world's most collectable wines. We would argue that it is Bordeaux's most prestigious wine. The vineyard of Pétrus covers just 11.4 hectares (28 acres) and is situated on the plateau on the eastern side of Pomerol on Bordeaux's Right Bank. The vineyard sits at the top of a 20-hectare (49-acre) hillock (called the Pétrus boutonnière). It has topsoil and subsoil high in iron-rich clay – distinctly different from surrounding vineyards. This terroir gives Pétrus a unique power and aging potential.
The uniqueness of Pétrus is also partially the result of its very old vines (average age exceeding 45 years). Pétrus was also one of the first in Bordeaux to implement green-harvesting (éclaircissage) to lower yields and increase the concentration and power of the wine. Grapes are hand-harvested over two to three days, although the vineyard's small size permits harvesting to be completed in one day if necessary. This means that all grapes are picked at the optimal time. A stringent pre-assemblage vat selection is carried out and certain parcels are rejected as not worthy of the Grand Vin. The young wine is aged in 50% new French oak barrels for 12 to 16 months. An average year might yield at most 30,000 bottles.
Pétrus is a collectors' and critics' darling, feted by all who have the money or access to be able to sample this most powerful and unique wine. Robert Parker has awarded Pétrus no less than 8 perfect 100-point scores!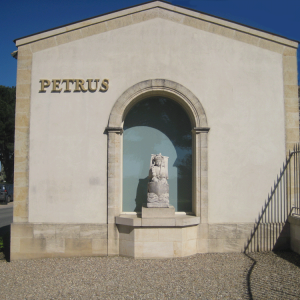 Name
Price Low
Price High
Year (Old)
Year (New)
Prices:
Product Name
Region
Qty
Score
Price

Bordeaux
1
-

Inc. GST

SG$5,161.94

Bordeaux
1
100 (WS)

Inc. GST

SG$33,911.07

Wine Spectator (100)

This is clearly a 100-year wine, offering a monumental concentration of black truffle, olive, earth and chocolate aromas and flavors. Superb structure, with finely integrated tannins and a long finish.--Pétrus vertical. Drink now.

More Info

Bordeaux
8
95 (WA)

Inc. GST

SG$6,398.54

Wine Advocate (95)

Whilst I have tasted many vintages of Petrus, the 1966 Petrus is one that has eluded me. Finally, it appeared in a series of 1966s served blind and frankly, it's quality shone through long before its identity was revealed. You can consider this as the final great Petrus from the original vineyard, before absorbing part of Gazin in 1969. It revels in a stunning bouquet with graphite and bay leaf, as well as very intense black fruit that becomes almost Margaux-like with aeration. The palate is silky smooth with fine tannin, far more reserved and masculine than the 1964 Petrus, yet disarmingly focused and precise, hints of orange peel and morello cherry towards the pixelated finish. What a fabulous Pomerol, one that will last 15-20 years subject to provenance. Tasted April 2016.

More Info

Bordeaux
1
99 (WA)

Inc. GST

SG$4,222.69

Wine Advocate (99)

In all fairness, the last bottle in the vertical tasting I had of Petrus came from a pristinely stored magnum that I owned, so perhaps a regular bottle of this wine might be fading a bit. Nevertheless, this has always been the best wine of the vintage and a gorgeous example of Petrus. The wine shows considerable amber to its garnet color and has a sweet nose of coffee beans intermixed with cedar, herbs, black cherries, roasted nuts. The wine is sweet, elegant, medium to full-bodied, and totally savory and seamless. It is a gorgeous wine and one of the great sleeper vintages for Petrus. Anticipated maturity: Drink up. Last tasted, 11/02.

More Info

Bordeaux
3
-

Inc. GST

SG$3,390.74

Bordeaux
1
99 (WA)

Inc. GST

SG$4,918.94

Wine Advocate (99)

The 1970 Petrus has developed magnificently over the last 4-5 years. Tight and reserved early in life, it has blossomed into a true blockbuster. This massive, highly-extracted, full-bodied, jammy, thick, unctuously-textured wine possesses a huge, spice, tobacco, black-cherry, mocha-scented nose. It is a real turn-on. The wine is fully mature, but it has at least 20 years of life remaining. A spectacular Petrus, it is now superior to the 1971, which out-performed it for nearly two decades. Owners of this wine have a true nectar in their cellars.

More Info

Bordeaux
1
-

Inc. GST

SG$3,288.14

Bordeaux
2
91 (VN (NM))

Inc. GST

SG$2,828.07

Vinous - Neal Martin (91)

Winemaker and Pomerol deity Jean-Claude Berrouet has often told me how he considers the 1975 Pétrus as his first success, the preceding vintages more trial and error. (Those who have savored the 1964, 1966, 1970 and 1971 might beg to differ.) Yet the quality of this 1973 was undeniable. I had encountered it once before, a bottle opened for my brother to celebrate his birth-year over a decade ago when such off-vintages, eschewed by all but the reckless, were affordable. But I could not remember it being this fine. "You should not under-estimate the Pomerols in 1973," Lord Bruce advised. Who am I to argue in such vinous presence? Whether a horizontal of 1973 Pomerol wines will serve the Vinous readership is another question. The salient lesson from this bottle was to never ever dismiss a bottle by dint of birth-year. Humans and wine alike cannot determine the year they are born. It is more a question of having to search harder in some years than others.

More Info

Bordeaux
1
88 (WA)

Inc. GST

SG$2,470.95

Wine Advocate (88)

Talk about a thrill a second, as well as unprecedented decadence (at least for me), consider the rarity of a flight of six double magnums of Petrus! Because there were not many people at the tasting, there was the possibility of having several large glasses of these wines, making judging them all the more fun. And let's not forget the medical benefit of flushing the fat out of one's arteries with such remarkable juice!

More Info

Bordeaux
1
89 (WA)

Inc. GST

SG$3,028.94

Wine Advocate (89)

Bottles of 1978 Petrus can be variable. I guess it depends on how you like your Pomerol. Here, served blind against the 1978 Hermitage La Chapelle, well, let's be honest, the Rhône is leaps and bounds superior. The Petrus is modest in terms of intensity, autumnal and a little leafy, a light marine influence developing with time and a hint of wild mint. The palate is medium-bodied with light tannin, balanced if lacking depth. There is harmony here, and a sense of honesty. There is nothing out of place, although it does come across as a wine content to be a second-tier Petrus. While not as good as the previous bottle I encountered over a decade ago, it is a decent Petrus that should be consumed over the next ten years. Tasted March 2014.

More Info

Bordeaux
1
90 (WS)

Inc. GST

SG$3,653.55

Wine Spectator (90)

A rather hard wine, with a firm backbone of silky tannins and sweet black olive, vanilla and berry aromas and flavors.--Pétrus vertical. Best from 1992 through 1995. -JS

More Info

Bordeaux
1
89 (WA)

Inc. GST

SG$4,054.94

Wine Advocate (89)

Talk about a thrill a second, as well as unprecedented decadence (at least for me), consider the rarity of a flight of six double magnums of Petrus! Because there were not many people at the tasting, there was the possibility of having several large glasses of these wines, making judging them all the more fun. And let's not forget the medical benefit of flushing the fat out of one's arteries with such remarkable juice! The 1980 Petrus turned in a surprisingly strong performance. A roasted herb, melted road tar, and sweet, jammy-scented nose is followed by a rich, medium to full-bodied wine with considerable length. It appears to have become more impressive with age. Could this wine really be superior to the 1981 and 1979? It is fully mature, so drink it over the next decade.

More Info

Bordeaux
1
89 (WS)

Inc. GST

SG$7,906.51

Wine Spectator (89)

Big and very ripe, almost raisiny. Mouth-coating fruit with ripe tannins, but a little clumsy to be outstanding.

More Info

Bordeaux
1
89 (WS)

Inc. GST

SG$49,203.03

Wine Spectator (89)

Big and very ripe, almost raisiny. Mouth-coating fruit with ripe tannins, but a little clumsy to be outstanding.

More Info

Bordeaux
1
89 (WS)

Inc. GST

SG$3,523.95

Wine Spectator (89)

Big and very ripe, almost raisiny. Mouth-coating fruit with ripe tannins, but a little clumsy to be outstanding.

More Info

Bordeaux
1
93 (WS)

Inc. GST

SG$3,525.74

Wine Spectator (93)

What you'd expect from such a legendary estate. Wonderful palate impression with silky, rich fruit. Plenty of blackberry and chocolate character, has a full body and medium finish.

More Info

Bordeaux
1
93 (WS)

Inc. GST

SG$36,043.70

Wine Spectator (93)

What you'd expect from such a legendary estate. Wonderful palate impression with silky, rich fruit. Plenty of blackberry and chocolate character, has a full body and medium finish.

More Info

Bordeaux
1
87 (WA)

Inc. GST

SG$3,876.38

Wine Advocate (87)

The 1984 Petrus has turned out to be amazingly good. Deep in color, with an intense, jammy, herbaceous bouquet, medium to full body, fine length, and plenty of tannin, this wine needs 2-3 years to mature, but will keep for 10-12 years. It is very impressive for the vintage. Anticipated maturity: Now. Last tasted, 11/90.

More Info

Bordeaux
1
93 (WS)

Inc. GST

SG$105,091.05

Wine Spectator (93)

Another superb bottle from Pétrus. Solid as a rock with mint, raspberry, cherry and tar character, full body and firm tannins. Needs time.

More Info

Bordeaux
1
93 (WS)

Inc. GST

SG$3,961.79

Wine Spectator (93)

Another superb bottle from Pétrus. Solid as a rock with mint, raspberry, cherry and tar character, full body and firm tannins. Needs time.

More Info

Bordeaux
1
93 (WS)

Inc. GST

SG$67,164.97

Wine Spectator (93)

Another superb bottle from Pétrus. Solid as a rock with mint, raspberry, cherry and tar character, full body and firm tannins. Needs time.

More Info

Bordeaux
1
92 (WS)

Inc. GST

SG$3,783.51

Wine Spectator (92)

Dark red, with an amber edge. Aromas of chocolate, stewed berries, Merlot and raisins. Full-bodied, velvety and rich. Lovely palate. Delicious now, but will hold on. An autumnal wine.--Bordeaux retrospective.

More Info

Bordeaux
1
92 (WS)

Inc. GST

SG$29,537.46

Wine Spectator (92)

Dark red, with an amber edge. Aromas of chocolate, stewed berries, Merlot and raisins. Full-bodied, velvety and rich. Lovely palate. Delicious now, but will hold on. An autumnal wine.--Bordeaux retrospective.

More Info

Bordeaux
1
92 (WS)

Inc. GST

SG$25,730.46

Wine Spectator (92)

Dark red, with an amber edge. Aromas of chocolate, stewed berries, Merlot and raisins. Full-bodied, velvety and rich. Lovely palate. Delicious now, but will hold on. An autumnal wine.--Bordeaux retrospective.

More Info

Bordeaux
1
87 (WA)

Inc. GST

SG$4,312.71

Wine Advocate (87)

The 1987, one of the most backward and full-bodied wines of the vintage, with a tremendous amount of tannic clout, yet excellent underlying power and body, remains closed. It is medium to full-bodied, with a reticent bouquet of vanillin, herbs, and sweet black fruit, and a long, firm finish. If you are a millionaire who wants to buy wine for a child born in 1987, this wine will still be in reasonable condition by the time he or she turns twenty-one. Anticipated maturity: 1997-2010. Last tasted, 5/93.

More Info

Bordeaux
1
87 (WA)

Inc. GST

SG$20,190.06

Wine Advocate (87)

The 1987, one of the most backward and full-bodied wines of the vintage, with a tremendous amount of tannic clout, yet excellent underlying power and body, remains closed. It is medium to full-bodied, with a reticent bouquet of vanillin, herbs, and sweet black fruit, and a long, firm finish. If you are a millionaire who wants to buy wine for a child born in 1987, this wine will still be in reasonable condition by the time he or she turns twenty-one. Anticipated maturity: 1997-2010. Last tasted, 5/93.

More Info

Bordeaux
1
95 (WS)

Inc. GST

SG$24,963.66

Wine Spectator (95)

Subtle yet rich aromas of grilled meat, black olive and dark red fruits. Full-bodied, very soft and silky, with ultrarefined tannins. The finish lasts for minutes. The quality of the tannins is beautiful and the complexity of fruit, earth and spices is impressive. Drinking this is like listening to Mozart.

More Info

Bordeaux
2
95 (WS)

Inc. GST

SG$26,491.86

Wine Spectator (95)

Subtle yet rich aromas of grilled meat, black olive and dark red fruits. Full-bodied, very soft and silky, with ultrarefined tannins. The finish lasts for minutes. The quality of the tannins is beautiful and the complexity of fruit, earth and spices is impressive. Drinking this is like listening to Mozart.

More Info

Bordeaux
1
100 (WA)

Inc. GST

SG$121,609.38

Wine Advocate (100)

How reassuring it is to see this wine, now the darling of international speculators, trophy hunters, et. al. perform so splendidly. My experience with young vintages of Petrus, particularly in the eighties, is that the wines often did not live up to their pre-bottling quality. That has not been the case with the 1989 and 1990. Both wines have consistently provided exhilarating tasting on the few times I have been able to take a look at them. I initially thought the 1990 may have been marginally superior to the 1989, but at present it is a dead heat. Both are enormously jammy, rich, super-concentrated wines that signal a return to the great Petrus of the pre-1976 era. The tannin is well-integrated, but the enormous texture, thickness, and impeccable balance are what make these wines so provocative. The 1989 is more backward and tannic, thus coming across as marginally more structured than the opulent and flashy 1990. Both wines are phenomenally rich and well-endowed, with that sweet inner-core of fruit that possesses layers of intensity. The colors are nearly opaque purple, and the noses are similar, with offerings of jammy black fruits, intertwined with scents of tea, overripe cherries, oranges, and an exotic coconut/caramel component. Both are massive and youthful, with the 1990 clearly more precocious, and for now, the most flattering to drink. The 1989 should hit its peak around 2005 and last for 25-30 years. For readers with the riches of a super-star athlete and, just as importantly, a shrewd wine broker who can locate these wines, these two vintages of Petrus will provide memorable drinking for another three decades. Two prodigious wines!

More Info

Bordeaux
1
100 (WA)

Inc. GST

SG$6,889.22

Wine Advocate (100)

How reassuring it is to see this wine, now the darling of international speculators, trophy hunters, et. al. perform so splendidly. My experience with young vintages of Petrus, particularly in the eighties, is that the wines often did not live up to their pre-bottling quality. That has not been the case with the 1989 and 1990. Both wines have consistently provided exhilarating tasting on the few times I have been able to take a look at them. I initially thought the 1990 may have been marginally superior to the 1989, but at present it is a dead heat. Both are enormously jammy, rich, super-concentrated wines that signal a return to the great Petrus of the pre-1976 era. The tannin is well-integrated, but the enormous texture, thickness, and impeccable balance are what make these wines so provocative. The 1989 is more backward and tannic, thus coming across as marginally more structured than the opulent and flashy 1990. Both wines are phenomenally rich and well-endowed, with that sweet inner-core of fruit that possesses layers of intensity. The colors are nearly opaque purple, and the noses are similar, with offerings of jammy black fruits, intertwined with scents of tea, overripe cherries, oranges, and an exotic coconut/caramel component. Both are massive and youthful, with the 1990 clearly more precocious, and for now, the most flattering to drink. The 1989 should hit its peak around 2005 and last for 25-30 years. For readers with the riches of a super-star athlete and, just as importantly, a shrewd wine broker who can locate these wines, these two vintages of Petrus will provide memorable drinking for another three decades. Two prodigious wines!

More Info
Product Name
Region
Qty
Score
Price

Bordeaux
1
-

In Bond

SG$4,770.00

Bordeaux
1
100 (WS)

In Bond

SG$31,380.00

Wine Spectator (100)

This is clearly a 100-year wine, offering a monumental concentration of black truffle, olive, earth and chocolate aromas and flavors. Superb structure, with finely integrated tannins and a long finish.--Pétrus vertical. Drink now.

More Info

Bordeaux
8
95 (WA)

In Bond

SG$5,915.00

Wine Advocate (95)

Whilst I have tasted many vintages of Petrus, the 1966 Petrus is one that has eluded me. Finally, it appeared in a series of 1966s served blind and frankly, it's quality shone through long before its identity was revealed. You can consider this as the final great Petrus from the original vineyard, before absorbing part of Gazin in 1969. It revels in a stunning bouquet with graphite and bay leaf, as well as very intense black fruit that becomes almost Margaux-like with aeration. The palate is silky smooth with fine tannin, far more reserved and masculine than the 1964 Petrus, yet disarmingly focused and precise, hints of orange peel and morello cherry towards the pixelated finish. What a fabulous Pomerol, one that will last 15-20 years subject to provenance. Tasted April 2016.

More Info

Bordeaux
1
99 (WA)

In Bond

SG$3,900.00

Wine Advocate (99)

In all fairness, the last bottle in the vertical tasting I had of Petrus came from a pristinely stored magnum that I owned, so perhaps a regular bottle of this wine might be fading a bit. Nevertheless, this has always been the best wine of the vintage and a gorgeous example of Petrus. The wine shows considerable amber to its garnet color and has a sweet nose of coffee beans intermixed with cedar, herbs, black cherries, roasted nuts. The wine is sweet, elegant, medium to full-bodied, and totally savory and seamless. It is a gorgeous wine and one of the great sleeper vintages for Petrus. Anticipated maturity: Drink up. Last tasted, 11/02.

More Info

Bordeaux
3
-

In Bond

SG$3,130.00

Bordeaux
1
99 (WA)

In Bond

SG$4,545.00

Wine Advocate (99)

The 1970 Petrus has developed magnificently over the last 4-5 years. Tight and reserved early in life, it has blossomed into a true blockbuster. This massive, highly-extracted, full-bodied, jammy, thick, unctuously-textured wine possesses a huge, spice, tobacco, black-cherry, mocha-scented nose. It is a real turn-on. The wine is fully mature, but it has at least 20 years of life remaining. A spectacular Petrus, it is now superior to the 1971, which out-performed it for nearly two decades. Owners of this wine have a true nectar in their cellars.

More Info

Bordeaux
1
-

In Bond

SG$3,035.00

Bordeaux
2
91 (VN (NM))

In Bond

SG$2,610.00

Vinous - Neal Martin (91)

Winemaker and Pomerol deity Jean-Claude Berrouet has often told me how he considers the 1975 Pétrus as his first success, the preceding vintages more trial and error. (Those who have savored the 1964, 1966, 1970 and 1971 might beg to differ.) Yet the quality of this 1973 was undeniable. I had encountered it once before, a bottle opened for my brother to celebrate his birth-year over a decade ago when such off-vintages, eschewed by all but the reckless, were affordable. But I could not remember it being this fine. "You should not under-estimate the Pomerols in 1973," Lord Bruce advised. Who am I to argue in such vinous presence? Whether a horizontal of 1973 Pomerol wines will serve the Vinous readership is another question. The salient lesson from this bottle was to never ever dismiss a bottle by dint of birth-year. Humans and wine alike cannot determine the year they are born. It is more a question of having to search harder in some years than others.

More Info

Bordeaux
1
88 (WA)

In Bond

SG$2,280.00

Wine Advocate (88)

Talk about a thrill a second, as well as unprecedented decadence (at least for me), consider the rarity of a flight of six double magnums of Petrus! Because there were not many people at the tasting, there was the possibility of having several large glasses of these wines, making judging them all the more fun. And let's not forget the medical benefit of flushing the fat out of one's arteries with such remarkable juice!

More Info

Bordeaux
1
89 (WA)

In Bond

SG$2,795.00

Wine Advocate (89)

Bottles of 1978 Petrus can be variable. I guess it depends on how you like your Pomerol. Here, served blind against the 1978 Hermitage La Chapelle, well, let's be honest, the Rhône is leaps and bounds superior. The Petrus is modest in terms of intensity, autumnal and a little leafy, a light marine influence developing with time and a hint of wild mint. The palate is medium-bodied with light tannin, balanced if lacking depth. There is harmony here, and a sense of honesty. There is nothing out of place, although it does come across as a wine content to be a second-tier Petrus. While not as good as the previous bottle I encountered over a decade ago, it is a decent Petrus that should be consumed over the next ten years. Tasted March 2014.

More Info

Bordeaux
1
90 (WS)

In Bond

SG$3,375.00

Wine Spectator (90)

A rather hard wine, with a firm backbone of silky tannins and sweet black olive, vanilla and berry aromas and flavors.--Pétrus vertical. Best from 1992 through 1995. -JS

More Info

Bordeaux
1
89 (WA)

In Bond

SG$3,745.00

Wine Advocate (89)

Talk about a thrill a second, as well as unprecedented decadence (at least for me), consider the rarity of a flight of six double magnums of Petrus! Because there were not many people at the tasting, there was the possibility of having several large glasses of these wines, making judging them all the more fun. And let's not forget the medical benefit of flushing the fat out of one's arteries with such remarkable juice! The 1980 Petrus turned in a surprisingly strong performance. A roasted herb, melted road tar, and sweet, jammy-scented nose is followed by a rich, medium to full-bodied wine with considerable length. It appears to have become more impressive with age. Could this wine really be superior to the 1981 and 1979? It is fully mature, so drink it over the next decade.

More Info

Bordeaux
1
89 (WS)

In Bond

SG$7,305.00

Wine Spectator (89)

Big and very ripe, almost raisiny. Mouth-coating fruit with ripe tannins, but a little clumsy to be outstanding.

More Info

Bordeaux
1
89 (WS)

In Bond

SG$45,495.00

Wine Spectator (89)

Big and very ripe, almost raisiny. Mouth-coating fruit with ripe tannins, but a little clumsy to be outstanding.

More Info

Bordeaux
1
89 (WS)

In Bond

SG$3,255.00

Wine Spectator (89)

Big and very ripe, almost raisiny. Mouth-coating fruit with ripe tannins, but a little clumsy to be outstanding.

More Info

Bordeaux
1
93 (WS)

In Bond

SG$3,255.00

Wine Spectator (93)

What you'd expect from such a legendary estate. Wonderful palate impression with silky, rich fruit. Plenty of blackberry and chocolate character, has a full body and medium finish.

More Info

Bordeaux
1
93 (WS)

In Bond

SG$33,255.00

Wine Spectator (93)

What you'd expect from such a legendary estate. Wonderful palate impression with silky, rich fruit. Plenty of blackberry and chocolate character, has a full body and medium finish.

More Info

Bordeaux
1
87 (WA)

In Bond

SG$3,580.00

Wine Advocate (87)

The 1984 Petrus has turned out to be amazingly good. Deep in color, with an intense, jammy, herbaceous bouquet, medium to full body, fine length, and plenty of tannin, this wine needs 2-3 years to mature, but will keep for 10-12 years. It is very impressive for the vintage. Anticipated maturity: Now. Last tasted, 11/90.

More Info

Bordeaux
1
93 (WS)

In Bond

SG$97,240.00

Wine Spectator (93)

Another superb bottle from Pétrus. Solid as a rock with mint, raspberry, cherry and tar character, full body and firm tannins. Needs time.

More Info

Bordeaux
1
93 (WS)

In Bond

SG$3,660.00

Wine Spectator (93)

Another superb bottle from Pétrus. Solid as a rock with mint, raspberry, cherry and tar character, full body and firm tannins. Needs time.

More Info

Bordeaux
1
93 (WS)

In Bond

SG$62,090.00

Wine Spectator (93)

Another superb bottle from Pétrus. Solid as a rock with mint, raspberry, cherry and tar character, full body and firm tannins. Needs time.

More Info

Bordeaux
1
92 (WS)

In Bond

SG$3,495.00

Wine Spectator (92)

Dark red, with an amber edge. Aromas of chocolate, stewed berries, Merlot and raisins. Full-bodied, velvety and rich. Lovely palate. Delicious now, but will hold on. An autumnal wine.--Bordeaux retrospective.

More Info

Bordeaux
1
92 (WS)

In Bond

SG$27,300.00

Wine Spectator (92)

Dark red, with an amber edge. Aromas of chocolate, stewed berries, Merlot and raisins. Full-bodied, velvety and rich. Lovely palate. Delicious now, but will hold on. An autumnal wine.--Bordeaux retrospective.

More Info

Bordeaux
1
92 (WS)

In Bond

SG$23,775.00

Wine Spectator (92)

Dark red, with an amber edge. Aromas of chocolate, stewed berries, Merlot and raisins. Full-bodied, velvety and rich. Lovely palate. Delicious now, but will hold on. An autumnal wine.--Bordeaux retrospective.

More Info

Bordeaux
1
87 (WA)

In Bond

SG$3,985.00

Wine Advocate (87)

The 1987, one of the most backward and full-bodied wines of the vintage, with a tremendous amount of tannic clout, yet excellent underlying power and body, remains closed. It is medium to full-bodied, with a reticent bouquet of vanillin, herbs, and sweet black fruit, and a long, firm finish. If you are a millionaire who wants to buy wine for a child born in 1987, this wine will still be in reasonable condition by the time he or she turns twenty-one. Anticipated maturity: 1997-2010. Last tasted, 5/93.

More Info

Bordeaux
1
87 (WA)

In Bond

SG$18,645.00

Wine Advocate (87)

The 1987, one of the most backward and full-bodied wines of the vintage, with a tremendous amount of tannic clout, yet excellent underlying power and body, remains closed. It is medium to full-bodied, with a reticent bouquet of vanillin, herbs, and sweet black fruit, and a long, firm finish. If you are a millionaire who wants to buy wine for a child born in 1987, this wine will still be in reasonable condition by the time he or she turns twenty-one. Anticipated maturity: 1997-2010. Last tasted, 5/93.

More Info

Bordeaux
1
95 (WS)

In Bond

SG$23,065.00

Wine Spectator (95)

Subtle yet rich aromas of grilled meat, black olive and dark red fruits. Full-bodied, very soft and silky, with ultrarefined tannins. The finish lasts for minutes. The quality of the tannins is beautiful and the complexity of fruit, earth and spices is impressive. Drinking this is like listening to Mozart.

More Info

Bordeaux
2
95 (WS)

In Bond

SG$24,480.00

Wine Spectator (95)

Subtle yet rich aromas of grilled meat, black olive and dark red fruits. Full-bodied, very soft and silky, with ultrarefined tannins. The finish lasts for minutes. The quality of the tannins is beautiful and the complexity of fruit, earth and spices is impressive. Drinking this is like listening to Mozart.

More Info

Bordeaux
1
100 (WA)

In Bond

SG$112,530.00

Wine Advocate (100)

How reassuring it is to see this wine, now the darling of international speculators, trophy hunters, et. al. perform so splendidly. My experience with young vintages of Petrus, particularly in the eighties, is that the wines often did not live up to their pre-bottling quality. That has not been the case with the 1989 and 1990. Both wines have consistently provided exhilarating tasting on the few times I have been able to take a look at them. I initially thought the 1990 may have been marginally superior to the 1989, but at present it is a dead heat. Both are enormously jammy, rich, super-concentrated wines that signal a return to the great Petrus of the pre-1976 era. The tannin is well-integrated, but the enormous texture, thickness, and impeccable balance are what make these wines so provocative. The 1989 is more backward and tannic, thus coming across as marginally more structured than the opulent and flashy 1990. Both wines are phenomenally rich and well-endowed, with that sweet inner-core of fruit that possesses layers of intensity. The colors are nearly opaque purple, and the noses are similar, with offerings of jammy black fruits, intertwined with scents of tea, overripe cherries, oranges, and an exotic coconut/caramel component. Both are massive and youthful, with the 1990 clearly more precocious, and for now, the most flattering to drink. The 1989 should hit its peak around 2005 and last for 25-30 years. For readers with the riches of a super-star athlete and, just as importantly, a shrewd wine broker who can locate these wines, these two vintages of Petrus will provide memorable drinking for another three decades. Two prodigious wines!

More Info

Bordeaux
1
100 (WA)

In Bond

SG$6,370.00

Wine Advocate (100)

How reassuring it is to see this wine, now the darling of international speculators, trophy hunters, et. al. perform so splendidly. My experience with young vintages of Petrus, particularly in the eighties, is that the wines often did not live up to their pre-bottling quality. That has not been the case with the 1989 and 1990. Both wines have consistently provided exhilarating tasting on the few times I have been able to take a look at them. I initially thought the 1990 may have been marginally superior to the 1989, but at present it is a dead heat. Both are enormously jammy, rich, super-concentrated wines that signal a return to the great Petrus of the pre-1976 era. The tannin is well-integrated, but the enormous texture, thickness, and impeccable balance are what make these wines so provocative. The 1989 is more backward and tannic, thus coming across as marginally more structured than the opulent and flashy 1990. Both wines are phenomenally rich and well-endowed, with that sweet inner-core of fruit that possesses layers of intensity. The colors are nearly opaque purple, and the noses are similar, with offerings of jammy black fruits, intertwined with scents of tea, overripe cherries, oranges, and an exotic coconut/caramel component. Both are massive and youthful, with the 1990 clearly more precocious, and for now, the most flattering to drink. The 1989 should hit its peak around 2005 and last for 25-30 years. For readers with the riches of a super-star athlete and, just as importantly, a shrewd wine broker who can locate these wines, these two vintages of Petrus will provide memorable drinking for another three decades. Two prodigious wines!

More Info