Ochota Barrels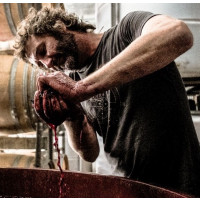 Taras Ochota (bass player, punk rocker and surfer) is one of the original "rockstar" winemakers. His Ochota Barrels is fast becoming a natural wine cult icon in Australia's Adelaide Hills.
James Suckling has claimed that Ochota's "his handcrafted reds and whites" are some of the "most sought after in the natural wine world". That is really saying something, and indeed his wines are usually impossible to source – mostly going to top restaurants.
Overseen by the "rare talent" that is Taras Ochota, Ochota Barrels is a tiny 9.6 acres winery tucked away deep in the Basket Range of Adelaide Hills. Established in late 2000, Ochota Barrels reflects a lazar-like focus on producing small quantity, natural wine that expresses its terroir, and its terroir only. In just ten years, Ochota has already achieved global acclaim. Here is leading Australian critic Nick Stock: "Taras Ochota has shown an amazing ability to learn and observe … and to conceive and craft great wine with a unique flair and innate intuitive gift. It is a rare talent, and the wines he makes are as inspiring as they are impressive."
Tara Ochota doesn't follow a set formula. Like the natural elements, his viticulture and winemaking differ year-by-year, and vineyard-by-vineyard. But he does have a vision of the style of wine he wants to deliver. Tara Ochota's quest is for lighter, ethereal wines with freshness and tension; so he farms his sites organically and biodynamically, and he picks very early to achieve natural bracing acidity.
Tara Ochota is also a minimalist. A firm believer of minimal intervention, his fermentations are carried out naturally, and the only extraction he does is pigeage by hand (very uncommon in the world of wine!). He also uses semi-carbonic maceration to vinify his wines, and as a result, little tannin is extracted.
Prices: