Pontet Canet 2015 (6x75cl)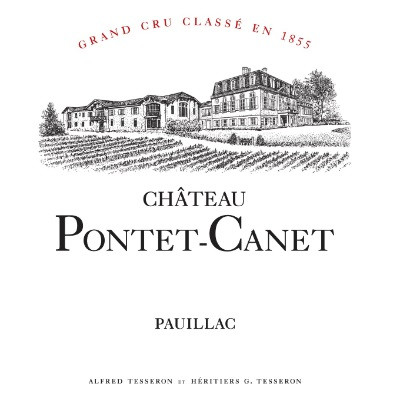 Very floral and a hint of barley malt. Bright black fruit, quite solid and polished. Leather polish. Palate is well structured and excellently balanced. Biodynamics clearly taking hold to great effect. Wild forest fruits rather than cultivated fruits. Lovely crunchy mineral, wonderful spice and ripe tannins.
So much floral and dark-fruit character with almonds and walnut shell. Full body and ultra-fine tannins. Powerful. Classic style with a harmony and energy. Goes on for minutes. A superb wine with great fruit. Real Bordeaux. Try in 2025.

97+

Antonio Galloni - Vinous

Proprietor Alfred Tesseron and winemaker Jean-Michel Comme produced an absolutely stellar Pontet-Canet in 2015. Sumptuous, racy and totally inviting, the 2015 is all class. Super-ripe dark cherry, plum, spice and exotic floral notes build as the 2015 shows off its alluring personality. Even with all of its raciness, the 2015 speaks with authority and power. Fine tannins extend the persistent, highly nuanced finish. The 2015 is 65% Cabernet Sauvignon, 30% Merlot, 3% Cabernet Franc and 2% Petit Verdot aged 50% new oak, 4% in terra cotta and 15% in neutral oak. Tasted three times.



A blend of 65% Cabernet Sauvignon, 30% Merlot, 4% Cabernet Franc and 1% Petit Verdot, 50% of the 2015 Pontet-Canet was aged in new French oak, while 15% was matured in second fill barrels and 35% in cement amphorae. Deep garnet-purple in color, the nose opens with exuberant black currants, red currants and black raspberries scents plus an evocative undercurrent of cedar chest, dusty earth, cloves, chocolate box and Provence herbs with a fragrant waft of lavender. Medium to full-bodied and built like a brick house with very firm, wonderfully grainy tannins and black and red fruits charged with the most singular energy, it finishes with incredible persistence and depth.

Drinking Window: 2024 - 2045

Reviewer Name: Lisa Perrotti-Brown

Review Date: 21st February 2018

The 2015 Pontet Canet is 65% Cabernet Sauvignon, 30% Merlot and the rest Cabernet Franc and Petit Verdot brought up in 50% new oak, and 35% in amphora. With textbook Pauillac notes of lead pencil shavings, tobacco leaf, smoke, and licorice, as well as a core of pure crème de cassis fruit, this beautiful, full-bodied, impeccably balanced is one of the few 2015s that's going to demand cellaring. The tannin are high, yet sweet, and like its bright acidity, nicely integrated into the wine. Forget bottles for 5-7 years and enjoy over the following three decades. I don't put this as the level of the 2009 and 2010, but it's still a beautiful wine. Tasted three times.


Straight off the nose this hits you with rich, dark fruits, spice, and the promise of longevity. There is a real focus and purity to the fruit, but the depth of flavour and firm wall of tannins leave you in no doubt that it's a Pauillac. This has so much depth, with an inky, pencil-lead aspect on the attack, but what becomes clearer through the palate is in fact the freshness and the opening up of the fruit. As ever at Pontet, winemaker Jean-Michel Comme is searching for less and less intervention in the winemaking process, with the cellar moving away from any electricity at all. The 2015 wine has been aged in amphoras as well as in oak barrels. Bottled in July.

Details

Year

2015

Colour

Red

Country

France

Region

Bordeaux

Sub Region

Pauillac

Designation

Classification

Pack Size

6x75cl

ABV

13.5°

Drinking Window

2024 - 2045

Drinking Recommendation

Not Ready

Certified Organic

Yes

Certified Biodynamic

Yes

LWIN

101430720150600750

Reviews (6)

So much floral and dark-fruit character with almonds and walnut shell. Full body and ultra-fine tannins. Powerful. Classic style with a harmony and energy. Goes on for minutes. A superb wine with great fruit. Real Bordeaux. Try in 2025.

97+

Antonio Galloni - Vinous

Proprietor Alfred Tesseron and winemaker Jean-Michel Comme produced an absolutely stellar Pontet-Canet in 2015. Sumptuous, racy and totally inviting, the 2015 is all class. Super-ripe dark cherry, plum, spice and exotic floral notes build as the 2015 shows off its alluring personality. Even with all of its raciness, the 2015 speaks with authority and power. Fine tannins extend the persistent, highly nuanced finish. The 2015 is 65% Cabernet Sauvignon, 30% Merlot, 3% Cabernet Franc and 2% Petit Verdot aged 50% new oak, 4% in terra cotta and 15% in neutral oak. Tasted three times.



A blend of 65% Cabernet Sauvignon, 30% Merlot, 4% Cabernet Franc and 1% Petit Verdot, 50% of the 2015 Pontet-Canet was aged in new French oak, while 15% was matured in second fill barrels and 35% in cement amphorae. Deep garnet-purple in color, the nose opens with exuberant black currants, red currants and black raspberries scents plus an evocative undercurrent of cedar chest, dusty earth, cloves, chocolate box and Provence herbs with a fragrant waft of lavender. Medium to full-bodied and built like a brick house with very firm, wonderfully grainy tannins and black and red fruits charged with the most singular energy, it finishes with incredible persistence and depth.

Drinking Window: 2024 - 2045

Reviewer Name: Lisa Perrotti-Brown

Review Date: 21st February 2018

The 2015 Pontet Canet is 65% Cabernet Sauvignon, 30% Merlot and the rest Cabernet Franc and Petit Verdot brought up in 50% new oak, and 35% in amphora. With textbook Pauillac notes of lead pencil shavings, tobacco leaf, smoke, and licorice, as well as a core of pure crème de cassis fruit, this beautiful, full-bodied, impeccably balanced is one of the few 2015s that's going to demand cellaring. The tannin are high, yet sweet, and like its bright acidity, nicely integrated into the wine. Forget bottles for 5-7 years and enjoy over the following three decades. I don't put this as the level of the 2009 and 2010, but it's still a beautiful wine. Tasted three times.


Straight off the nose this hits you with rich, dark fruits, spice, and the promise of longevity. There is a real focus and purity to the fruit, but the depth of flavour and firm wall of tannins leave you in no doubt that it's a Pauillac. This has so much depth, with an inky, pencil-lead aspect on the attack, but what becomes clearer through the palate is in fact the freshness and the opening up of the fruit. As ever at Pontet, winemaker Jean-Michel Comme is searching for less and less intervention in the winemaking process, with the cellar moving away from any electricity at all. The 2015 wine has been aged in amphoras as well as in oak barrels. Bottled in July.


Producer

There's an old show business saying it takes twenty years of hard work to be an overnight success. If this is the case, in the past few stellar Bordeaux vintages, Pontet Canet has been the leading star stealing the limelight from its illustrious Pauillac neighbours, including Lafite and Mouton. Not bad for a mere cinquième (5th) cru. In reality, it has been 20 - 30 years of hard work by owner Alfred Tesseron, through implementing radical concepts such as biodynamics and even employing horses from Brittany to cultivate the precious vines. Techniques other wineries are chasing to catch up.

Value Comparison