Leoville Las Cases 2010 (12x75cl)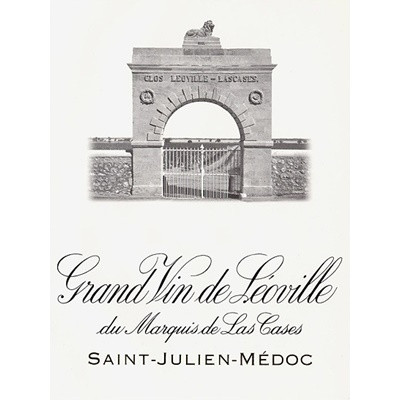 This has almost searing acidity running through it, but it's ripe and mouthwatering, harnessing a massive core of black currant and red licorice notes. Supertight but very fine-grained, this gets tighter, but also longer, as it moves along. This could age in reverse for a while, before it starts to unwind. A brick house. Tasted non-blind. Score range: 95-98
Drinking Window: 2018 - 2050
94-97
Stephen Tanzer - Vinous
(a blend of 82% cabernet sauvignon, 10% merlot and 8% cabernet franc; 74 IPT; 3.56 pH; 75% new oak; 13.7% alcohol) Deep ruby with purple highlights. Sexy, classic, captivating cabernet sauvignon aromas of blackcurrant, graphite and cedar complicated by minerals. Silky-sweet, fine-grained and almost gentle on entry, with well-integrated acidity contributing to an impression of finesse. Then dense and firm in the mid-palate, with rich, brooding cassis, gunflint and mineral flavors. This is considerably less showy today than the 2009 was at a similar stage of development, conveying a more austere aspect to its dark fruit flavors. Finishes pure, seamless and very long, with incredibly silky tannins. How Jean-Hubert Delon manages to get tannins this sweet and smooth every vintage is beyond me.
Drinking Window: 2018 - 2050
Review Date: 1st May 2011
96-98 A hugely dense wine, with a great smoky character, power as well as the greatest finesse. It has rich berry fruits, weaving through the dusty tannic structure, very powerful, concentrated. The end is more severe, along with the year's hallmark juiciness.
Drinking Window: 2018 - 2050
Review Date: 25th June 2011
Blended of 82% Cabernet Sauvignon, 10% Merlot and 8% Cabernet Franc, the deep garnet colored 2010 Léoville Las Cases delivers tons of evolving black fruits on the nose with notes of crème de cassis, prunes and incense plus wafts of cloves, cedar, cigar box and powdered cinnamon. Full-bodied, rich, bold and decadently fruited, it has a solid frame of grainy tannins, and the oak is faintly notable on the palate. It finishes impressively with long-lingering mineral notes. This one probably needs 3-5 more years to really hit its stride!
Drinking Window: 2023 - 2060
Reviewer Name: Lisa Perrotti-Brown
Review Date: 5th March 2020
This is very silky, with a racy and fresh character of violets, currants and raspberries. Full with a super texture. Racy structure. Reminds me of the 1996.
Drinking Window: 2018 - 2050
Review Date: 20th April 2011
Details

Year

2010

Colour

Red

Country

France

Region

Bordeaux

Sub Region

Saint-Julien

Designation

Classification

Pack Size

12x75cl

ABV

13.5°

Drinking Window

2023 - 2060

Drinking Recommendation

Not Ready

LWIN

101237420101200750

Reviews (5)

This has almost searing acidity running through it, but it's ripe and mouthwatering, harnessing a massive core of black currant and red licorice notes. Supertight but very fine-grained, this gets tighter, but also longer, as it moves along. This could age in reverse for a while, before it starts to unwind. A brick house. Tasted non-blind. Score range: 95-98

Drinking Window: 2018 - 2050

94-97

Stephen Tanzer - Vinous

(a blend of 82% cabernet sauvignon, 10% merlot and 8% cabernet franc; 74 IPT; 3.56 pH; 75% new oak; 13.7% alcohol) Deep ruby with purple highlights. Sexy, classic, captivating cabernet sauvignon aromas of blackcurrant, graphite and cedar complicated by minerals. Silky-sweet, fine-grained and almost gentle on entry, with well-integrated acidity contributing to an impression of finesse. Then dense and firm in the mid-palate, with rich, brooding cassis, gunflint and mineral flavors. This is considerably less showy today than the 2009 was at a similar stage of development, conveying a more austere aspect to its dark fruit flavors. Finishes pure, seamless and very long, with incredibly silky tannins. How Jean-Hubert Delon manages to get tannins this sweet and smooth every vintage is beyond me.

Drinking Window: 2018 - 2050

Review Date: 1st May 2011

96-98 A hugely dense wine, with a great smoky character, power as well as the greatest finesse. It has rich berry fruits, weaving through the dusty tannic structure, very powerful, concentrated. The end is more severe, along with the year's hallmark juiciness.

Drinking Window: 2018 - 2050

Review Date: 25th June 2011

Blended of 82% Cabernet Sauvignon, 10% Merlot and 8% Cabernet Franc, the deep garnet colored 2010 Léoville Las Cases delivers tons of evolving black fruits on the nose with notes of crème de cassis, prunes and incense plus wafts of cloves, cedar, cigar box and powdered cinnamon. Full-bodied, rich, bold and decadently fruited, it has a solid frame of grainy tannins, and the oak is faintly notable on the palate. It finishes impressively with long-lingering mineral notes. This one probably needs 3-5 more years to really hit its stride!

Drinking Window: 2023 - 2060

Reviewer Name: Lisa Perrotti-Brown

Review Date: 5th March 2020

This is very silky, with a racy and fresh character of violets, currants and raspberries. Full with a super texture. Racy structure. Reminds me of the 1996.

Drinking Window: 2018 - 2050

Review Date: 20th April 2011

Producer

Chateau Leoville-Las Cases was one of the largest Bordeaux vineyards before divided several times over the years. Uniquely they still share their building with Leoville Poyferre, a separate estate. They were the first Bordeaux to officially have a second wine. Their wine is well structured and critics often describe it is as a first growth in everything but name.

Value Comparison