Aile d'Argent 2018 (12x75cl)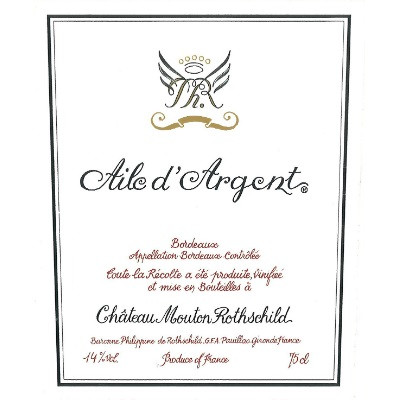 There was no malolactic fermentation and no Muscadelle this year—both unusual for Aile d'Argent. Composed of 55% Sauvignon Blanc and 45% Sémillon (harvested August 30 to September 5), the 2018 Aile d'Argent has 13% alcohol and is a little reticent to begin, offering fragrant notions of lemongrass, freshly chopped ginger and lemon tart with a core of fresh pineapples, white peaches and aniseed. The palate is rich, sultry and exotic with loads of spices and tropical fruit and an electric backbone of acid, finishing very long.
Reviewer Name: Lisa Perrotti-Brown
Review Date: 23rd April 2019
A big white with very dense dried apples and peaches. Dried pineapple, too. Full-bodied, rich and flavorful. 45 per cent semillon, the rest sauvignon blanc.
This is a delicious wine that has been extremely well handled with complexity and a long drawn out finish. It's wonderfully fresh with touches of aniseed and flint alongside citrus and sweet pear flesh alongside an underlying spice doing a great job of providing focus and lift. To maintain freshness, no malolactic fermentation was carried out on any of the white grapes this year – in most years Aile d'Argent has maybe 10% malo, and no Muscadelle was used as it didn't succeed as well as they'd hoped in the dry summer. The harvest took place between 30 August 30 and 5 September.

Drinking Window: 2026 - 2040
Reviewer Name: Jane Anson
The 2018 Aile D'Argent Blanc offers good freshness and purity as well as some tropical hints in its tart peach, pineapple, and crushed citrus aromas and flavors. It's beautifully balanced and has a fresh, clean, crisp style ideal for drinking over the coming couple of years.
Details

Year

2018

Colour

White

Country

France

Region

Bordeaux

Sub Region

NA

Designation

Classification

Pack Size

12x75cl

Drinking Window

2026 - 2040

Drinking Recommendation

Not Ready

LWIN

101637220181200750

Reviews (4)

There was no malolactic fermentation and no Muscadelle this year—both unusual for Aile d'Argent. Composed of 55% Sauvignon Blanc and 45% Sémillon (harvested August 30 to September 5), the 2018 Aile d'Argent has 13% alcohol and is a little reticent to begin, offering fragrant notions of lemongrass, freshly chopped ginger and lemon tart with a core of fresh pineapples, white peaches and aniseed. The palate is rich, sultry and exotic with loads of spices and tropical fruit and an electric backbone of acid, finishing very long.

Reviewer Name: Lisa Perrotti-Brown

Review Date: 23rd April 2019

A big white with very dense dried apples and peaches. Dried pineapple, too. Full-bodied, rich and flavorful. 45 per cent semillon, the rest sauvignon blanc.

This is a delicious wine that has been extremely well handled with complexity and a long drawn out finish. It's wonderfully fresh with touches of aniseed and flint alongside citrus and sweet pear flesh alongside an underlying spice doing a great job of providing focus and lift. To maintain freshness, no malolactic fermentation was carried out on any of the white grapes this year – in most years Aile d'Argent has maybe 10% malo, and no Muscadelle was used as it didn't succeed as well as they'd hoped in the dry summer. The harvest took place between 30 August 30 and 5 September.


Drinking Window: 2026 - 2040

Reviewer Name: Jane Anson

The 2018 Aile D'Argent Blanc offers good freshness and purity as well as some tropical hints in its tart peach, pineapple, and crushed citrus aromas and flavors. It's beautifully balanced and has a fresh, clean, crisp style ideal for drinking over the coming couple of years.

Producer

Mouton-Rothschild was upgraded to First Growth status in 1973. Long before that, in the 1850s Baron Nathaniel de Rothschild – an English member of the by then already wealthy family - had set his heart on acquiring a Bordeaux estate. His gaze fell on Chateau Brane Mouton (Mouton meaning "small hill") and in 1853 acquired it. In 1868, James Rothschild, another member of the family purchased Chateau Lafite. The 5 pointed crest of the labels of the Rothschild family wines symbolises the five sons of the first generation of the family. The modern history of Mouton Rothschild really begins with the young Baron Philippe Rothschild. In the 1920s he was the first in Bordeaux to insist on bottling at the estate. Artist designed unique annual labels then appeared from 1924. He relentlessly drove up the quality and prestige of the estate until the famous 'upgrade' in 1973. The Mouton vineyard is older than most in Bordeaux, with vines averaging 50 years, and some going back over 100! It is one of the world's truly 'great' wine estates.

Value Comparison